Electronic Arts (EA) has announced Spore API Contest 09, an effort to help spur developers into creating their own apps which connect to EA's popular simulated life game Spore.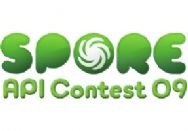 Spore, developed by Maxis and Sim City creator Will Wright, lets you manage and effect the evolution of a life form from its most primitive — a single-celled creature swimming in a puddle of primordial ooze — up through its development of a backbone and then into a communicating, sentient being. The game was released in 2008 for both Mac OS X and Windows.
Now EA has released the Spore Application Programming Interface (API), a cross-platform Web-based programming technology that enables application developers to hook their own software into Spore. Using the API, you can create tools as diverse as an "aquarium" to hold Spore pets, a "Buddy Browser" that lets you look at what your friends are doing, Creature Battle, gadgets and more.
EA has released sample code for the API that enables it to run using Adobe Flash, PHP, Python, Processing and Mathematica.
EA is offering winners the chance to get an Nvidia graphics card, copy of Spore and its forthcoming Galactic Adventures expansion pack, or Galactic Adventures. All submissions must be in by April 6, 2009.