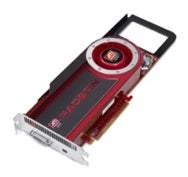 By now everyone and their mother knows that I own a Mac Pro (I can almost hear people screaming into their Macs, "Enough about your Mac Pro, McNulty!" and yet I must press on), and last year's model to boot. I also happen to own one of those fancy 24-inch LED Apple displays that was such a great addition to my former MacBook Pro. The only problem is that I no longer have that MacBook Pro, so I have been using the monitor as a large mirror for the last month and a half.
But it looks like my LED monitor will shift from paperweight to useful accessorry sometime in the next couple months. As Peter Cohen reported earlier this week, Apple is offering up a ATI Radeon HD 4870 Graphics Upgrade Kit for Mac Pro (Early 2009 or Early 2008), and the company has now released information on pricing and availability. For $349—a slight premium over the $200 BTO option for the new Mac Pros—your Mac Pro will get a (in my case, much-needed) mini DisplayPort connector plus a dual-link DVI connector. Then I can plug in both my 24-inch monitors at once and browse twice as much of the Internet in half the time…or something.
The online Apple Store says the card will ship in 5-7 weeks, but shipping is free. Mine can't get here soon enough.