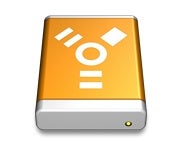 FireWire target disk mode has saved my bacon countless times. If you're not familiar with FireWire target disk mode it transforms a Mac equipped with a FireWire port (either 400 or 800) into an external hard drive. Simply hold down the T key when you boot up and the Mac in question, as long as it supports this mode, will boot into FireWire target disk mode. Connect it to another Mac with a FireWire cable and the disk mounts in the Finder like any other external disk would.
Whenever I replace the boot disk of a Mac my routine is to restart the Mac in target disk mode, connect it to another Mac, and use SuperDuper! to clone the drive to yet another external drive connected to the second Mac. I then swap out the old drive, slap in the new one, and reverse the cloning (that sounds far more awesome than it actually is, but you get the idea).
This is probably all old news to most of you out there, but earlier this week I was confronted with a problem that a nifty trick of FireWire target disk mode solved. My fiancée's sister is in town, and she has her MacBook with her. Tuesday evening she turned to me and said, "Can you reinstall iChat for me? I deleted it when I was running low on disk space." During her last visit I had replaced her hard drive with a larger one using the method I describe above, though at the time she neglected to mention her mad app deleting spree.
I thought this would be a pretty easy problem to fix since I have a Leopard DVD in my desk. Just pop it into the MacBook's DVD drive, reinstall iChat, and problem solved. That's when she told me about her MacBook's busted DVD drive.
What to do, what to do?
I vaguely remembered that not only are the internal hard drives treated as external devices when you boot a Mac in FireWire target disk mode, but so are any other drives that Mac might have. Oddly enough, I had another MacBook on hand with a functioning DVD drive and a FW400 cable to connect the two. I booted the extra MacBook into FireWire target disk mode and connected it to the iChat-less MacBook. Its disk showed up in the Finder. Hurrah! I then slipped the Leopard DVD into the DVD drive. It took a couple of seconds, but like magic the Leopard DVD appeared on the ailing MacBook's Desktop.
FireWire target disk mode had, once again, turned this lowly blogger into a hero. Is there anything FireWire can't do?