Thinking up a strong password when you need one right away is not always easy. Password Generator 2.0 for the iPhone and iPod touch simplifies the task of creating difficult-to-crack passwords for you by randomly spawning strings of passcodes based on variables of your choosing.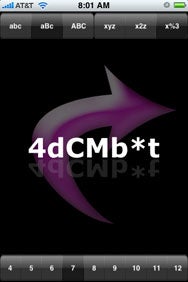 Erica Sadun's application is simple and straightforward—start the app and PWG generates a random password. Simply tap or swipe your finger on the screen to produce a different string.
Of the available apps designed to create random passwords, I find Password Generator superior in its ease of use and speed. While other applications tend to bury their variable settings within the menu or the Setting/General section of the iPhone software, Password Generator simplifies this by bringing these choices directly to the main screen in the form of three segment controls. The pre-selected controls let you instantly manipulate specific variables for your password string such as case selection, alphanumeric mix (with or without special characters), and password length up to 12 characters. Variable changes can be made on the fly with no need to exit the application.
Choosing passwords can be as easy as recycling previously used passwords or using passcodes as trivial as 1-2-3-4-5. The use of strong passwords is good computing practice to better secure your online and offline profiles from prying eyes and hackers alike. With Password Generator, there is no excuse not to use one—especially since its a free download.
Password Generator is compatible with any iPhone or iPod touch running the iPhone 2.1 software update.
[George Sun is a freelance writer and mobile professional based in Irvine, Calif.]