PlayFirst, publishers of the hugely successful casual game Diner Dash, have announced the latest game to round out the franchise: Diaper Dash, a game set in a daycare. It's coming out on Friday, March 6, 2009 and will cost $20, though PlayFirst "Play Pass" members get early access to it.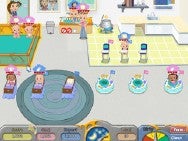 The "Dash" games are all variations on task management games — you need to accomplish a series of tasks as quickly as possible for rewards. Set in the same world of "DinerTown" where Diner Dash takes place, Diaper Dash features Wilson, who's running the local day care.
Wilson's responsible for taking care of babies — making sure they're fed, clean, ready for naps, and properly entertained. The game features 50 levels and more than 20 upgrades you can buy for Wilson to help make his life a little less harried.
System requirements call for Mac OS X 10.4 or later, G4/800MHz or faster, 256MB RAM, 800 x 600 resolution and 22MB hard disk space.