Ambrosia Software on Thursday announced the release of Multiwinia, a new war game for the Mac. It costs $20; a 30-day trial version is available for download.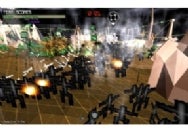 Multiwinia is from the developers of Darwinia, and it's set in the same environment. It's "a fantastic fractalized world populated by bloodthirsty little stick men with a mission: follow your orders to annihilate their enemies." It's a real-time strategy game.
Multiwinia features six different game types with more than 40 maps to choose from, along with online and single player modes. Game modes include Domination, King of the Hill, Capture the Statue, Assault, Rocket Riot and Blitzkrieg.
Ambrosia has previously collaborated with Introspection Software, makers of Multiwinia, to bring Darwinia, Defcon and Uplink to the Mac.
System requirements call for Mac OS X 10.4.11 or later, G5 or Intel-based Mac.