The Variety app for the iPhone and iPod touch puts Hollywood's daily news Bible in the palm of your hand. Part RSS feed browser, part photo browser, part video player, the app is somewhat less the sum of its parts.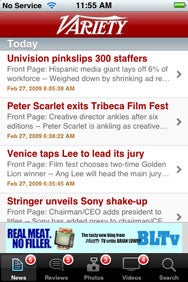 As entertainment news sources go, the Variety app serves up remarkably thin gruel—no more than half a dozen news stories and reviews a day. When I last checked, the video section contained just four movie trailers. It's really just a taste of what's on Variety.com.
The photo galleries are small and particularly difficult to view. The app will take you to Variety's Web site, but the browser is framed with top and bottom nav bars, as well as an ever-present ad at the bottom of the screen. As a result, it's tough to see much of anything in landscape view.
Yet there is more Variety content available if you know what to search for. I entered "Watchmen" in the app's search engine, and 25 stories going back to March 2008 popped up. But this isn't at all obvious or intuitive.
Bottom line: The Variety app lays an egg.
Variety is compatible with any iPhone or iPod touch running the iPhone 2.x software update.
[Ben Boychuk is a freelance writer and columnist in Rialto, Calif. Feel free to drop him a line.]