At a Glance
Expert's Rating
Pros
Full-size numeric keypad with standard layout
Solidly built
Provides two USB 1.1 ports
Additional special-function and data-entry keys
No third-party software drivers required
Cons
Fn key awkwardly-placed
Not wireless
Our Verdict
If your main Mac is a laptop, or if your favorite keyboard is missing a numeric keypad, a standalone keypad is one way to replace those useful keys. Although there are a good number of these input devices on the market, few officially support the Mac, and even fewer offer any advantages for Mac users. Kinesis's Low-Force Keypad for Mac is an exception, offering both Mac compatibility and Mac-specific features.
Like Kinesis's Freestyle Solo Keyboard for Mac ( ), the Keypad uses traditional dome-style key switches (as opposed to laptop-style scissor switches). As with the Freestyle, the Keypad's keys require more travel—the distance you have to press a key for it to register—than most laptop keys, but aren't nearly as mushy-feeling as many dome-style keys; in fact, they require little force while providing very good tactile feedback.
In addition to the standard keypad keys—the numerals 0 through 9, the five numeric operators, enter, clear, and decimal—the Kinesis keypad includes a comma key in the bottom row (which makes the decimal key narrower than normal) and, along the top edge, escape, tab, delete, and fn keys.
The keypad also provides eight navigation keys, accessible as alternate functions of the 1 through 9 keys (5 excluded). These alternate functions—up-, down-, left-, and right-arrow, as well as home, end, page up, and page down—are accessed by holding down the keypad's fn key. Like the special-function keys on Kinesis's Freestyle Solo keyboard, these alternate functions require no third-party software drivers—a nice touch. However, they do require a one-time setup procedure in Mac OS X. When you first plug in the keypad, OS X's Keyboard Setup Assistant appears on the screen and walks you through the operating system's process for identifying an unknown keyboard; instead of pressing the Z and / keys, as requested by the Assistant, the Low-Force Keypad's manual instructs you to press fn-0 and fn-decimal. This procedure fools OS X into thinking that the keypad is a full-size keyboard. (Your Mac remembers the keyboard on subsequent connects.)
These extra keys and functions allow you to perform many common data-entry tasks without having to use the main keyboard simultaneously. Unfortunately, the placement of the fn key in the upper-right corner of the keypad makes it difficult—and anything but ergonomic—to access these special functions with one hand. I would have preferred the fn key in a position where you could hold it comfortably with your thumb while you use your fingers to type; assuming you use the keypad with your right hand, a good place would be the left edge near the bottom.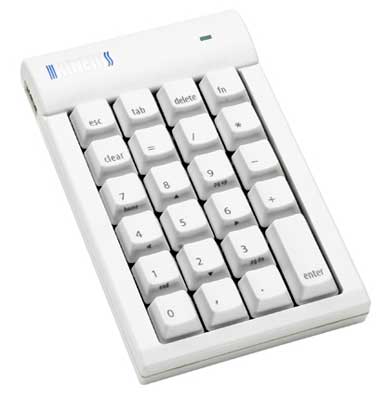 The keypad connects via a 6.5-foot USB cable. This long cable is useful for positioning the keypad around your other accessories and input devices, although wireless capability would be a nice addition. You also get two USB 1.1 ports, one on each side near the top edge; these allow you to connect a USB keyboard to the keypad so you don't waste one of your Mac's USB ports by having both connected. (For example, Kinesis's own Freestyle Solo doesn't provide any USB ports of its own; to use the two together, you'd connect the keypad to your Mac and the Solo to the keypad.)
Macworld's buying advice
If a numeric keypad would help you work more efficiently, Kinesis's Low-Force Keypad for Mac is a well-designed option that stands out for its Mac-specific design and features.
[Dan Frakes is a Macworld senior editor.]