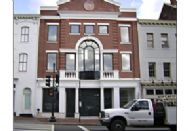 Georgetown Apple fans rejoice! An Apple Store is finally coming to Wisconsin Avenue! Once built, this will mark the first Apple Store within the nation's capital.
While we don't know which elements in particular made Apple's fifth design that much more satisfactory to local authorities than all the others, there's at least one thing that seems to have tipped the balance in Cupertino's favor.
Apple originally had wanted to put in largely glass facade and instead, the company eventually came back with a storefront described by The Washington Post as being "broken into panels, echoing the bay windows and entrances that dominate Georgetown."
Stephen J. Vanze, chairman of the Old Georgetown Board, told Apple's architect, Karl Backus, that the design was "beautifully executed."
No word as to when 1229 Wisconsin Ave. will finally open its doors, nor if the nearby vice presidential mansion at 1 Observatory Circle will finally get its own secret underground passageway direct to the Genius Bar.