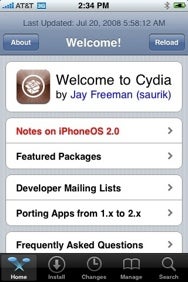 iPhone users in the know are well aware that there's a slew of apps that aren't available through the official app store. Late last year, Macworld's own Chris Breen wrote that "the jailbreaking community lives on and offers some very useful applications that you likely will never see from the App Store."
These include apps like Cycorder, which lets you use your iPhone as a camcorder or PdaNet, which allows users to use the iPhone's cellular data connection on their computer via a Wi-Fi connection.
All of these apps have been available through Cydia, a software installer developed by 27-year-old California graduate student Jay Freeman. Starting today, Cydia will be opening its own app store, providing a way for those jailbreak developers to easily sell their applications.
In an interview with The Wall Street Journal , Freeman says that Cydia "intends to charge developers no more than the commission Apple does for his site's billing services." The Journal also reported that two more rival app stores are also underway, including one interested in "selling adult games for the iPhone."
While it seems like these App Store rivals may have a court date with Apple in their future, many technology law scholars have said that an Apple legal victory isn't necessarily a given.
The landmark Digital Millennium Copyright Act might offer a means to go after such non-approved installations. In 2007, I wrote in The New York Times that legal experts don't agree as to how this uncharted territory could play out. In an interview for that article, Susan Crawford, a professor at the University of Michigan Law School, said that federal courts ruled that previous DMCA-related cases were less about preventing copyright infringement, but rather about stifling competition. "Courts have said you shouldn't use the DMCA to leverage your copyright monopoly into other markets," she said at the time.
Last December, the EFF proposed an exemption to the DMCA that would legalize jailbreaking. In response, Apple filed their opposition to the proposal in February arguing that it could lead to problems with the iPhone's security and reliability, as well as providing a potential venue for pirated iPhone applications.
Many tech law experts still say that the jailbreakers might actually have a viable defense. While jailbreaking and unlocking are not the same process, the iPhone unlocking process requires jailbreaking, so it seems likely that the same legal reasoning to defend against unlocking might hold. Whatever the case, Cydia's Freeman says he's lawyered up, and is ready for such a challenge.