Amazon's Kindle for iPhone is a gateway drug for e-book junkies. Amazon is giving iPhone users just enough of a taste of the Kindle experience with the free app to make them crave the real thing. Amazon CEO Jeff Bezos is saying to readers, in so many words, "You like that? For just $359, you can get even higher. Go ahead. You know you want to."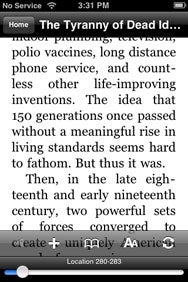 Okay, I'll admit it: I'm tempted. Good thing my willpower is as strong as my wallet is light. I don't own a Kindle and, as I've written previously, I'm unlikely to buy one anytime soon. I've never actually used a Kindle, although I have some inkling of what it can do. So I know that the Kindle iPhone app is a stripped down version of the real thing. I'll leave it to my betters to compare how the Kindle app works to the actual device.
Instead, my mission is to evaluate Kindle on its merits as a stand-alone iPhone app. And I cannot help but compare the Kindle app to Stanza ( ), which I use and love. (Bookshelf and eReader users, please hold your fire.)
Kindle is a fine e-book reader, with a huge selection of books to buy, a nice interface and blazing fast download times. On balance, however, I'd give Stanza the edge in terms of functionality and flexibility. Stanza simply does more than the Kindle app does.
Read more…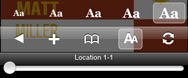 Unlike Stanza, Kindle doesn't support landscape mode. I can adjust the type size in the Kindle app, but I cannot change the typeface or adjust the margins as I can in Stanza. Nor can I search text. And I cannot highlight text or make other notations in the Kindle app, which is one of the more appealing features of the Kindle device. (Granted, I can't make notes in Stanza, either±I hope Lexcycle remedies that in an update.) Those are serious drawbacks with the Kindle app.
But Kindle is easy on the eyes and easy to navigate. I can download any one of 240,000 Kindle-formatted books in the blink of an eye. The speed is simply phenomenal compared to Stanza, which sometimes pauses just to load chapters. You can't search or download books directly from the Kindle app—you need to use Amazon's Web site. (No, you can't use Amazon's mobile app, either.) Once you've entered your Amazon username and password in the Kindle app, Amazon will recognize your iPhone when you buy books from the Web site. The first book I downloaded from Amazon's Kindle store appeared instantly when I launched the app. The second book, which is a monster of a biography on Abraham Lincoln, took about 30 seconds to download.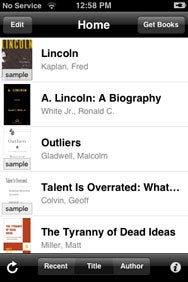 Incidentally, that's another way Amazon hooks you. One-click book buying is a dangerous thing for bibliophiles – it's why I turned it off for my regular book purchases and also why I have about 200 items in my Amazon shopping cart. Downloading a book to Stanza, especially if you've bought a book through Fictionwise, is a much more cumbersome process. I almost prefer the more laborious way—it puts a check on my e-book buying and keeps me out of the poorhouse.
For a non-Kindle owner like me, therefore, the question comes down to interface, selection, convenience, and, to some extent, freedom of choice. I don't like that I cannot import other e-books into the Kindle app. Then again, I don't like that I cannot import Kindle e-books into Stanza. Both apps have nice interfaces that make reading e-books on the iPhone's small screen no problem at all. But Stanza is more customizable and therefore more user friendly.
Sure, Amazon has a much larger selection at prices far superior to an e-book retailer like Fictionwise. But Stanza supports e-books available free of charge from worthy sources such as Project Gutenberg. If your tastes run toward older material, then Stanza is a better choice.
The Kindle app is certainly impressive. But as e-book apps go for the iPhone and iPod Touch, it's not the best. I wouldn't "just say no," but I wouldn't fret getting hooked, either.
Kindle for iPhone is compatible with any iPhone or iPod Touch running the iPhone 2.1 software update.
[Ben Boychuk is a freelance writer and syndicated political columnist in Rialto, Calif. Feel free to e-mail him at b.boychuk.3@gmail.com.]