As an incurable news junkie, I read news literally every spare second of my day—on the bus, during my lunch breaks, and occasionally in lengthy office meetings. Consequently, I often read news from my iPhone in short bursts, and rely on Google Reader to keep me in sync when at my computer.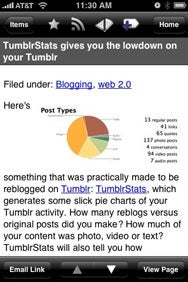 Byline ( ) used to be my RSS reader of choice for the iPhone. While I like much of Byline's interface, over time the app's limitations began to grate on me, and I began looking for a more customizable option.
Feeds from Prime31 Web design presents itself as a native Google Reader application with far more options, and while it suffers from its own flaws, it is a strong contender for the title of top RSS reader on the iPhone.
Read more…
While Google Reader syncing is clearly Feeds' marquis feature , it isn't a requirement to use the application. Adding RSS feeds independent of Google Reader is relatively painless, but must be done one by one—importing an OPML file is not currently supported. However, Feeds shines in conjunction with Google Reader. Syncing with Google is speedy, and Feeds supports starring, tagging, and sharing individual feed items.
More important, though, the app gives me granular control of my Google feeds: I can add or delete feeds, and view items by feed instead of category. Feeds also supports downloading a substantial amount of items per feed—up to 600—and offline reading. Skimming news is quite pleasant as well, due to the app's smooth scrolling and two line headline wrapping. Unfortunately, Feeds does not provide a way to adjust the size of text, which can be miniscule.
Feeds syncs my relatively modest 71 Google Reader feeds efficiently, but goes a step further than the Google Reader web application and Byline by integrating with Instapaper ( ). When I read news on the desktop, my habit is to open any lengthy articles a background tab and read them at my leisure. With Instapaper support, Feeds comes the closest of any iPhone RSS reader to creating a similar reading queue, which lets me process news faster and on my own schedule.
Feeds does have some noticeable drawbacks, many of them cosmetic in nature. Recognizing that the default vivd green title and navigation bars might not be everyone's cup of tea, Feeds offers three other color options available in settings (though crossing guard orange might have even less widespread appeal). Aside from questionable color choices, though, the application feels inelegant. Ten buttons are crammed into the top and bottom navigation bars when viewing a specific feed, which led to my accidentally sharing articles more than once. Even when horizontal viewing spaces these buttons out, it still looks a little overwhelming. In addition to these cosmetic complaints, Feeds lacks a way to create new folders, which can make for a cumbersome list of feeds.
More than anything, Feeds appears dedicated to choices—every individual user decides how it looks and how it works. While this dedication sometimes clutters the application, giving users this degree of customization means Feeds can fit almost seamlessly into your existing reading habits.
Feeds is compatible with any iPhone or iPod touch running the iPhone 2.2 software update.
[Kate Dohe is a graduate student in library and information science at the University of Hawai'i in Honolulu; she works with the Laboratory for Interactive Learning Technologies as a designer and site administrator.]