The ability to print from your iPhone or iPod touch would seem like an obvious function, but Apple hasn't added it yet. That's where third parties come in— EuroSmartz's Print ( ), for example, lets you print Web pages, photos, and contact information from your mobile device. HP iPrint Photo from Hewlett Packard also enables printing, but only for photos and only to an HP printer on your local network.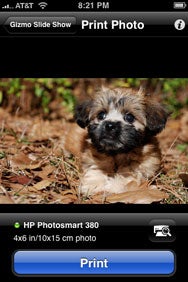 iPrint Photo may do one thing, but it does it well. Select a photo from any of your photo albums, and choose a shared HP printer on your Wi-Fi network. Tap Print, and out spits a 4-by-6-inch print of your photo. If you've got 4-by-6-inch photo paper loaded, you'll get a beautiful borderless photo. Otherwise, you'll get a 4-by-6 print on standard paper. Thanks to Apple's Bonjour technology, there is no printer configuration required so you'll go from taking a picture to printing one after a few taps.
I tested iPrint Photo with several HP printers on my local network with excellent results. And while the app only prints photos, you can work around this limitation by using the iPhone's screenshot function to take screen grabs of e-mail or maps, printing the resulting image. Unfortunately, you don't have any control of what gets printed—there are no crop, zoom, or other image adjustment tools in HP's software.
You could always sync your iPhone with your computer, printing from there. But this app provides a handy alternative if you've got an HP printer.
HP iPrint is compatible with any iPhone or iPod touch running the iPhone 2.x software update.
[James Savage is the host of the RetroMacCast a weekly podcast devoted to older Macintosh computers.]