There have been many variants of the sliding puzzle piece game on other platforms, and I loved a version I once played on my Palm PDA. However, thanks to the touch screen, Blocked from Joel Rosenberg is a perfect match for the iPhone and iPod touch.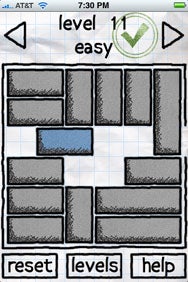 The premise is simple. You're provided with a set of rectangular blocks, and you must slide them laterally along their long axes to pass a single blue block through the exit. The early levels require only a few moves, but as you progress through the 100 levels from easy to hardest, it will require dozens and dozen of moves to accomplish your objective.
Thanks to the touch screen interface, flicking the blocks from side to side is a breeze as you work your way through the levels. The interface is simple but beautiful and very functional. Defeating each level unlocks the next and allows you to revisit past levels at any time.
The higher levels can be a challenge. There were times I thought some to be impossible, but with perseverance, I was able to solve them all. The only feature missing from Blocked is an indication of the minimum number of moves required to complete a level. That would add some replay value.
At less than a penny per level, Blocked is a tremendous value. It's easy to learn and very addictive. It is the perfect puzzle game for those quick moments during the day when you've got some time to kill and a puzzle to solve.
Blocked is compatible with any iPhone or iPod touch running the iPhone 2.x software update.
[James Savage is the host of the RetroMacCast a weekly podcast devoted to older Macintosh computers.]