eBay is the largest online auction site in the world, but how do you keep on top of the auctions when you're away from your computer? eBay Mobile brings access to thousands of auction listings to the palm of your hand.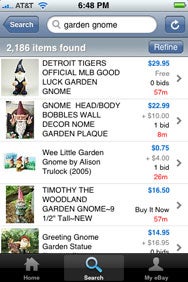 After you enter your login information, you're immediately presented by a search field along with buttons to view auction listings as either a buyer or a seller. Listings are nicely presented, allowing you to read descriptions, view pictures, and place bids. Unfortunately, if you do win an auction, you'll have to wait until you get to a computer, as eBay Mobile won't process payments. Seller functions are restricted to monitoring your auctions, so you won't be able create auctions or respond to buyer questions on the go. The recent version 1.2 update added the ability to access eBay's messaging system.
I've been using eBay Mobile daily ever since its release, and I can attest to its rock-solid stability and fast loading times even on EDGE. Since eBay Mobile is developed by eBay itself, you can be sure you'll get excellent compatibility with the auction service—I have never run into problems, especially during those critical last-minute bids. I find it to be an indispensable tool for tracking auctions of interest or doing quick searches when I'm away from my computer.
Whether you're a Power Seller or just an occasional eBay buyer or seller, eBay Mobile is an excellent way to keep track of auctions on your iPhone or iPod touch. Yes, eBay has a mobile site, but this dedicated app does an excellent job of providing the essential eBay functions available at the touch of your finger.
eBay Mobile is compatible with any iPhone or iPod touch running the iPhone 2.2 software update.
[James Savage is the host of the RetroMacCast a weekly podcast devoted to older Macintosh computers.]