Last week's refresh of the Mac mini brings Apple's lowest-priced computer into line with the rest of Apple's product line, using a new motherboard design that features Nvidia 9400M integrated graphics. The net result is a big gain for Mac gamers on a budget, according to our tests.
The Mac mini has never been what I'd consider a "gaming machine." Back in the bad old days of PowerPC, when the mini was first introduced, it came with a Radeon 9200 graphics processor. The graphics and the rest of the system were woefully underpowered for games of the day.
The introduction of the Intel-based Mac mini in 2006 didn't improve things, because the discrete graphics processor was replaced with Intel integrated graphics technology—an artifact that has remained the same for the last three years, until last week's Mac mini update.
This mini, however, is a different story, and our benchmarks bear that out—the thing produces very playable frame rates in Quake 4 and Unreal Tournament 2004 (yes, I know, UT2004 is very, very old), and it also runs Call of Duty 4 at a very respectable 35 frames per second. The previous-generation model couldn't even run that game at all.
The secret is Nvidia 9400M graphics. The Mac mini now features a motherboard design that's not unlike what you find in Apple's MacBook line.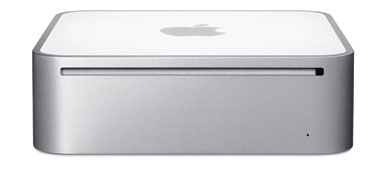 The Nvidia 9400M graphics remain integrated, just like Intel's were, but the 9400M has way, way more computational power than the Intel GMA graphics could manage. The new Nvidia graphics also support more advanced lighting and shading effects. Plus, if you put in 2GB RAM, the mini's graphics will allocate up to 256MB of system RAM for its own use, handy for frame buffering in those complex games.
Now, please don't misunderstand me. I don't wallow in ignorance; I'm well aware of the fact that $600 buys you a considerably more powerful off-the-shelf PC gaming system that's expandable with a cornucopia of PC-compatible graphics cards and much more upgradable than a Mac mini. I see those systems advertised in the pages of the PC game magazines to which I subscribe. I also know you can build your own PC for substantially less. And, I suppose, you can force one of those boxes to become a "FrankenMac" or a Hackintosh.
But that's not a Mac.
If you want a PC, go knock yourself out and buy a PC.
The price difference between a base-model Mac mini and a base-model Nvidia-equipped aluminum MacBook is huge: $700. You can afford two Mac minis for the cost of one MacBook. If you, like me, have desktop machines that already have keyboards, mice and displays hanging around, it's relatively short money for a decent upgrade.
Of course, you can get a polycarbonate-clad MacBook (the older design) with Nvidia graphics for less; one of those will only set you back $400 more than the Mac mini. And that difference is more than enough for a decent LCD panel, a wireless keyboard, a multi-button mouse suitable for gaming, plus World of Warcraft and a 60-day game card.
At a time when the economy has cratered and people are looking to stretch their budget as far as they can, this allows Mac customers to buy a very competent system without breaking the bank.
Me, I'm a Mac user first and a gamer second. I'm delighted to see Apple finally bring the Mac mini in line with the rest of the Mac product line, and make it, for the first time, something that users with gaming interests beyond basic casual titles will be able to enjoy.
Editor's note: Updated 3/9/08 1:30 PM ET with details about the polycarbonate MacBook.