Europe's largest IT fair saw an almost 20 percent drop in visitors this year but those that did turn up to the six day event in Hanover were on average a higher quality of attendee than in the past, organizers said late Sunday.
Cebit ran from Tuesday to Sunday and attracted more than 400,000 visitors, Deutsche Messe said in a statement. In total 4,300 companies from 69 countries exhibited though the vast fairgrounds in Hanover hawking products as diverse as cell-phone voice scramblers, enterprise management software, computer motherboards and solar energy systems.
The show got off to a strong start in the local media spotlight thanks to the visit of California governor Arnold Schwarzenegger, who was there to prototype IT ventures from his state. California was the partner state of Cebit this year.
But later in the week there were none of the big announcements typical of Cebit in the past. In part that's due to the lack of big-name electronics companies, many of which have decamped to the IFA trade show in Berlin, and cell phone makers, which announced their new products at the recent Mobile World Congress event, but it may also be a sign of the current economic times or product cycles. Even Intel, a long-time Cebit exhibitor, had little new to show this year.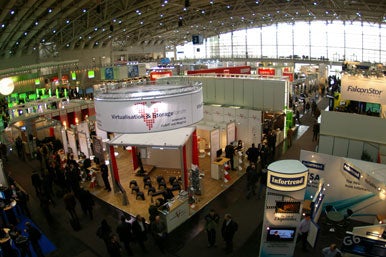 The drop comes as little surprise considering the current state of the global economy. Many companies have cut back or eliminated travel budgets and Cebit itself saw around 1,000 mostly Asian exhibitors cancel during the last three months of 2008 after economic problems hit.
In terms of geographical mix the number of international attendees held roughly firm at about 20 percent with the drop in Asian visitors made up for by those from the Americas and Middle East, Deutsche Messe said.
Cebit 2010 will run from March 2 to 6, which is one day shorter than this year's fair. The event will end on Saturday so that exhibitors have a chance to get back home before the new work week begins—a request made to organizers by many at the show, they said.
With the drop Deutsche Messe now needs to convince exhibitors and visitors that it isn't a sign the event is no longer worth attending — a problem it faced at the midway point when it typically discloses visitor numbers for the first few days of the event.
This year the company broke with tradition and declined to provide any visitor numbers. The organizers feared headlines about weak attendance would cause some to cancel their trips to the fair and thus push numbers down further, they said.
What organizers have seized on to is that companies might be sending fewer staff to Cebit but those that attend are a higher quality. The event is seeing more senior-level staff than in previous years, said Deutsche Messe. But the organizer didn't provide any data to quantify that claim.