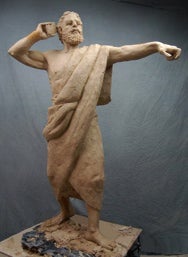 What does it mean when figures of the ancient world who have been depicted for millennia, are now given the tools of the 21st century, like iPhones and iPods?
That's one of the questions that Adam Reeder is trying to explore in his "Socio-technic evolution" series.
One of the first in the series depicts the Greek god Pan rockin' out to his iPod. (No word yet on what's on Pan's playlist, but I think we can safely presume "Panic at the Disco" made the cut.) This 22-inch tall piece is currently for sale for $9,800 and would definitely be a striking addition to any serious collection, no doubt.
In an interview with Cult of Mac, Reeder said: "The Greek god Pan played his flute in the woods and danced with nymphs," and added that "my depiction shows Pan, still dancing as before, but no longer playing his own music. Thus, the technology changes the context, but not the nature [of the classical image.]"
The Pan piece—appropriately named "Pan With His iPod"—won 1st Place for Figurative Sculpture in the Academy of Art's (San Francisco) 2008 Spring Show.
Other upcoming works include Atlas holding up a giant iPhone, and Zeus Calling Down The Thunder (pictured)—which begs the question, does thunder also have an iPhone?