Locr has announced the release of Locr Uploader 1.0, a free plug-in for Apple's iPhoto that helps you upload photos to the geotagging site.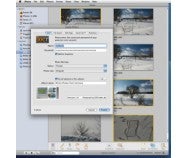 Locr enables users to share their photos and geotag tag — identify where the pictures were taken using geographical coordinates, so people looking at the photos can understand where they were taken.
The free plug-in enables images and albums stored in iPhoto '09 to be updated to Locr, retaining all descriptions, titles and keywords. You can manually geotag photos, and add different sets from the export window. The plug-in then writes the URL of the image to the iPhoto descriptions so you can easily access the images from Locr afterwards.
The plug-in was developed by Norbert M. Doerner, author of CDFinder.