Pano is an amazing app for creating on-the-spot panoramic photos without the need of desktop software to stitch the photos together. Developed by Debacle Software, Pano does a very simple thing in principle, but the results are incredible given that this is something created by a mobile application.
Read more…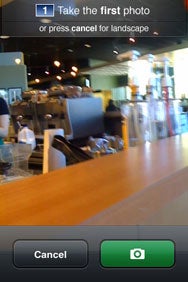 Pano relies on the iPhone's built-in camera to take the images that will make up the completed panoramic shot. (As a result, this app won't work with the iPod touch.) Pano's interface is simple and very effective. When you launch Pano, the app prompts you to start taking a series of pictures. Tapping Cancel lets you switch between portrait and landscape orientation, quit, or resume your snapshots.
After each shot, you can discard and retake it, or save and proceed to the next in the series. A semi-transparent portion of the edge of the previous shot allows you to line up the next, continuing until you have completed six shots. After your final shot, Pano stitches the images together into one photo and then saves it to your iPhone's photo album.
I was amazed with the results. Even after blowing up the image in iPhoto, I had a hard time seeing where the edges of each individual image blended together. In my test image, I even had moving subjects in the background—these were only marred by a slight blur around their edges in Pano's finished product.
I never had much interest in creating panoramic photos due to the time it took to work with the photos and adjust for misalignments with my camera. Pano makes the process fun. I just wish my six-megapixel camera had this built-in capability.

Pano is compatible with any iPhone running the iPhone 2.2 software update.
[ Tom Hesser loves tech and spends his time testing software on his iPhone, playing with a new gadget, hammering out a blog post, or trying to master the art of podcasting.]