It seems like the world has gone crazy for Twitter (yes, Macworld is on Twitter). Everyone and their mother (hi, mom!) is tweeting up a storm these days, and while many struggle to come up with elaborate theories as to how Twitter became such a craze the answer seems obvious: Twitter is easy. It's easy to sign up, and it's easy—some might say too easy—to start tweeting once you have.
For those of you who use Safari, enjoy tweeting links, and aren't afraid of big bad Input Managers, there is a new way to tweet on the block: Safari140. After you install Safari140, you gain a new option under Safari's File menu, 'Post to Twitter', which is also available via the keyboard shortcut of control-T. The first time you use Safari140 you are prompted for your Twitter credentials; keep in mind that there are no preferences for Safari140 at the moment, so if you want to switch the account you'll have to run a Terminal command.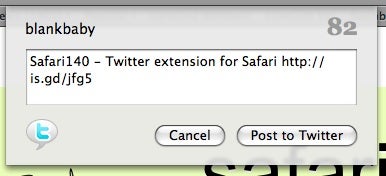 When you trigger Safari140 while looking at a web site it automatically populates your tweet with the title of the page you're looking at as well as the URL, shortened using the is.gd service. You can edit this information or add a custom message before you hit 'Post to Twitter', and the built-in character counter will make sure you stay within the 140 character limit.
Safari140 is free, requires Leopard, and works with both Safari 3 and the current beta of Safari 4.
Now the obligatory warning about Input Managers: they aren't supported by Apple and many people feel you should avoid them at all costs (for a variety of reasons). An equal number of people think they are just fine and you should use as many of them as you like. I say it's your computer, so do whatever you like with it, just remember you can get rid of Safari140—or any other Input Manager, for that matter—by going into your system Library folder (not your user's Library folder) and navigating to the InputManagers folder. Delete the offending files from there and you should be all set.