Let's say you need to call Aunt Celeste in Sydney—is she awake? Or perhaps your boss has handed you a hot lead from Lapland—will anyone be in the office to take your call? Darkness from Bjango, now available in an updated 2.0 release, answers these questions with a distinctive style, adding unique features not available in the default iPhone world clock application.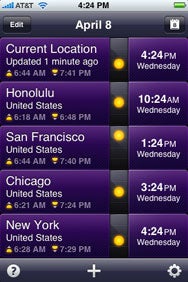 Like the default app, Darkness displays a customizable list of world cities along with the local time and date. But the similarity ends there—Darkness adds the time of sunrise and sunset, and a colorful icon reveals the sun's relative position in the sky. Selecting a specific city delivers the time of sunrise, transit, and sunset; moon rise and set times; the hours and minutes of daylight; and the times of dawn and dusk, based on civil, aeronautical, and astronomical measures.
New to the 2.0 release is the addition of azimuth measurements (the number of degrees on the horizon from north) for sun and moon rise and set times. Darkness 2.0 also features the current azimuth and altitude of the sun. All of this data appears with a splash of color and style, which stands out while managing to remain true to iPhone application conventions.
You can now specify past or future dates in Darkness—a major improvement in this version that can help you plan your vacation by letting you know exactly how early (or late) you can hit the beach while still enjoying the daylight.
Bjango also improved the way you select locations. A built-in database offers more than 20,000 world cities, and Darkness also provides a current location based on the data collected via the location-aware features of your iPhone or iPod touch. You can create custom locations—such as in the wilderness or at sea—by providing a latitude and longitude fix.
Like other Bjango apps, the $2 Darkness is visually attractive and engaging. It provides a wealth of information essential for those whose work or recreation takes them outdoors and for the astronomically curious.
Darkness is compatible with any iPhone and iPod touch running the iPhone 2.x software update.
[Dale Gardner is a freelance writer and aspiring photographer who lives in Northern Virginia.]