Popular folklore tells us Abraham Lincoln wrote his historic Gettysburg Address on the back of an envelope. Today's orators wouldn't be caught with such unsophisticated tools, preferring complex and expensive TelePrompTers that let them appear to speak extemporaneously. With AutoCue from Softalk, you can join presidents and prime ministers with your own prompter, right in the palm of your hand.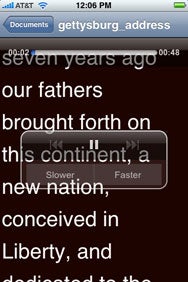 AutoCue provides a simple and easy-to-use prompter which scrolls the text of your speech or notes, allowing you to stay on track with your iPhone or iPod touch. You can write speeches using AutoCue's built-in editor. A faster—and easier option—is to create a text file and upload it to your iPhone using a Web browser, the Finder, or a Network Drive in Windows.
The application's default white text on a black background—as well as the size of text—can be modified as you desire. Scrolling speed, ranging from glacial to to literally breathtaking, is set to an adjustable default and can be changed as you speak. You can also pause scrolling, which displays a progress bar revealing elapsed time and the estimated time required to complete the presentation.
The app displays scrolling text in either portrait or landscape mode, although the pace of the display is appreciably slower when presenting in landscape. If you're a fast talker, you might find you outpace the application, even at full speed. While uploading and file management tasks are simple, AutoCue is sensitive to file format. AutoCue only supports text files, and those lacking a .txt file extension are not displayed in the application's list of speeches.
If you're often called on to give presentations, AutoCue is an inexpensive and useful addition to your toolkit.
AutoCue is compatible with any iPhone and iPod Touch running the iPhone 2.x software udpate.
[Dale Gardner is a freelance writer and aspiring photographer who lives in Northern Virginia.]