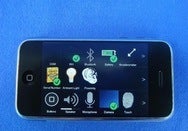 If you thought that your run-of-the-mill iPhone was expensive, wait till you hear about these. Up for auction on eBay are not one but two pre-production iPhones, one of which is in working condition, running a beta version of the original iPhone OS.
Both iPhones seem to be pretty undamaged, except for a few scratches here and there, but one of them shows no signs of life at all. The other one, on the other hand, is quite the novelty, what with its ability to make calls, browse mobile versions of websites, and receive text messages. Not that it's something you'd want to use everyday: you can't browse full-fledged websites and it only allows you to send one of a few canned test messages.
Interestingly, it has a matte screen (or "antiglare", as Apple would call it) on it and sports a OS with the version number 03.06.01_G, which is different from the final shipping version 03.11.02_G. It also features a set of diagnostic tools, quite similar to the ones we saw on an iPod touch a few months ago. Both iPhones have the shiny Apple logo on the back but neither has the word "iPhone" on it (perhaps they weren't sure what Cisco's reaction would be at that point of time).
If all of that information has you drooling over this unique specimen of an iPhone, you might want to check out the eBay page. Be warned though that, after 55 bids, the price is already $2,225 as of this writing. Clearly, this is one iPhone that you can't just buy on a whim or fancy.
[via iLounge]