Primera Technology has introduced the PX450, a $1500 full-color specialty printer designed for use at retail Point-of-Sale (POS) and Point-of-Issue (POI) locations. It's Mac and PC-compatible.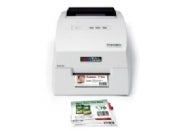 The printer is designed to output coupons, receipts, tickets, name badges, wristbands and other narrow-format output. It can output a 4 x 2.5-inch strip (like a coupon) in five seconds, and features a built-in "guillotine" cutter to cut paper to any length.
The PX450 is a USB 2.0-based printer. It uses drop-in paper rolls and a snap-in tri-color ink cartridge. Primera offers paper rolls available from 1 inch wide to 4.25 inches wide.
System requirements call for Mac OS X 10.2 or later.