Lawyers and designers may not appear to have much in common. But they—like a lot of other people—tend to deal in billable hours, and they both need a simple and reliable means to track time spent on client projects. Jobs from Bjango, provides a simple but functional solution to that challenge.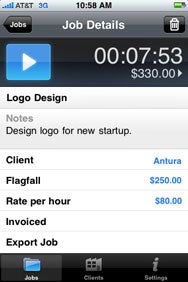 Jobs lets you track and manage both clients and jobs. Client definitions consist of only the name of a firm, but can be linked to a contact in your Address Book. Unfortunately, you can only link a Client to a single contact. If you work with more than one individual at a firm, you'll need to create multiple entries. Selecting a client for display reveals the jobs associated with that client, and the value of work recorded. This information can be exported (via a built-in e-mail application in Jobs) which attaches summary or detail information in a variety of formats (XML, CSV, and Plain Text).
You can give jobs a name, and there's space to write notes. Hourly and flagfall rates—the latter term refers to a set initial charge at the start of a job—are based on default settings, but can be changed whenever you create a job.
Tracking time is very easy—just select a job and touch the large start button. Task time is tracked until you press stop, even if the device sleeps, you run other applications, or get a call on your iPhone. For the especially industrious, it's possible to run multiple timers at once.
Each start/stop cycle results in a session record, documenting the amount of time spent on a task. Individual session records can be edited, deleted, or even added if you failed to capture a work session. You can also mark jobs as invoiced.
Although Jobs performs its basic functions well, it would benefit from a few additional features. The application doesn't provide a way to itemize expenses—a problem if you're charging costs back to a client. And the use of a built-in mail client for data export, rather than the default Mail app on the iPhone or iPod touch, will be a problem for some users. All information is routed through Bjango servers, which offer unproven privacy and reliability. The e-mail client's lack of integration with the Address Book means you can't look up alternative recipients.
Despite these issues, Jobs is more than likely to pay for its $4 cost by ensuring comprehensive work and billing records.
Jobs is compatible with any iPhone or iPod touch running the iPhone 2.x software update.
[Dale Gardner is a freelance writer and aspiring photographer who lives in Northern Virginia.]