Newer Technology has released a new version of its MiniStack, a hub storage system. It's available in the 1.5TB capacity from $270.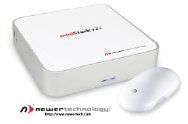 The MiniStack was designed to complement the Mac mini and serve as a stackable external hard drive and hub for it—it measures 6.5 x 6.5 x 1.5 inches. It also works with other Macs. Inside is a Serial ATA (SATA) hard drive operating at 7200 RPM.
Newer makes two versions of the MiniStack—the 2.5 and the 3. The 2.5 is a "dual-interface" system: it sports three FireWire 400 and three USB 2.0 ports, and comes with internal storage from 80GB to 1.5TB. The 3 is a "quad-interface" system with one external Serial ATA (eSATA) port, two FireWire 800, one FireWire 400 and three USB 2.0 ports. It comes in capacities from 160GB to 1.5TB.