Since Apple updated its Mac mini line a week ago, I've found myself getting into some pretty heated discussions with friends, colleagues, and others, about the mini's price tag.
As you know, Apple's latest mini models feature a 2GHz Core 2 Duo chip with 3MB of shared L2 cache. They also feature Nvidia GeForce 9400 integrated graphics, replacing the meager Intel GMA 950 graphics of the previous models. One model, with 1GB of RAM and a 120GB hard drive, sells for $599, while the other, with twice the memory and 320GB hard drive, costs $799. You'll note that those were the same prices of the previous mini configurations.
And yet, some of the people that I've talked to think Apple should have seized the opportunity to really put it to Dell and other PC makers by substantially slashing the price of the mini. With the economy the way it is, they contend, Apple could make a substantial dent in the low-end PC market.
On the surface that argument makes sense. But I think there are some inherent problems with that strategy.
Read more…
First of all, Apple should not want to get into a pricing war with other PC manufacturers. That's a no-win situation for everyone involved, including consumers. Computers will be made with inferior parts to keep the price down, as companies keep slashing prices (while looking for ways to cut costs) in order to stay competitive.
That's just not what Apple does, or the kind of product I expect out of Cupertino. I count on Apple to deliver a quality product at a reasonable price—your definition of "reasonable," of course, being an entirely subjective decision.
If Apple did offer a $300 Mac mini, the company would have to leave it priced there or lower for all time, even after the economy recovers. Apple could never adjust the price, because people would scream and yell. And the company would have a hard time upgrading the system because it would need to keep component costs down to turn a profit on mini sales.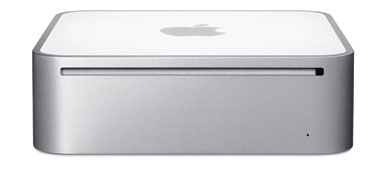 Apple just needs to stay within reach of low-price computers. And I think the company pulls that off with a $599 price tag. There is a certain amount of prestige to owning an Apple product—any Apple product—and the company needs to protect that as well.
If someone goes out to purchase a computer and it costs $499, but they see the mini is only $100 more, I'm willing to bet the mini would still be in the running. By being in the ballpark, Apple can use its brand and the prestige factor to sell computers without getting into a pricing war. Add to that the mini is a good-looking system with all those features I listed up above—a 2GHz Intel Core 2 Duo processor, Nvidia GeForce 9400M graphics and SuperDrives—and the mini looks like a competitive system, even if its price tag is a few dollars more than what the competition offers.
I understand everyone wants the lowest cost computer they can get—so do I. But I think there is a point when the lower price starts to affect the quality of the machine you are getting. I would rather see Apple stay on the quality side of that line.