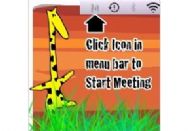 So if you've ever had to work together with a phalanx of co-workers dispersed across time and space, you may have run into this problem of not being exactly sure how to share documents. Fortunately our blogging team hasn't (yet) run into this problem—e-mail and IM seem to suit us just fine. But you may need to do spreadsheets, presentations, the whole nine yards. How do you make sure that everyone is literally on the same page at the same time?
These days, there are plenty of collaboration tools already out there. However, many of them can be costly and/or cumbersome to use. Enter Mikogo, which may prove to be one of the easiest-to-use. And it's free. Those are qualities I definitely appreciate in software.
The new Mac version, which has been in beta testing for the last two weeks, is available starting tomorrow, but the good folks over in Mannheim, Germany were kind enough to let us (and you!) get an early look. You can even download a copy of the app.
Mikogo's features include cross-platform screen-sharing for up to 10 participants in real-time, presenter switching, easy voice conferencing, and 256-bit AES encryption of all data.
If you give it a whirl, let us know in the comments how it stacks up.