At a Glance
Expert's Rating
Pros
Built-in wireless capabilities
Compact, all-in-one design
Better value for the money than the low-end model
Good video frame-rate performance
Cons
Glossy screen may frustrate some users
Viewing angle not as good as on the 24-inch model
Our Verdict
In this third-generation of aluminum iMac models, the lone 20-inch model features a 2.66GHz Core 2 Duo chip, a maximum of 8GB of memory (it ships with 2GB), a 320GB hard drive and integrated Nvidia graphics that share memory with the system RAM.
Apple seems to be happy with releasing iMac updates once per calendar year. The new iMacs replace models that were released 10 months ago, which is an eternity in technology. And before that, there was an 8-month gap between iMac updates. Fortunately, the new iMacs feature significant changes that result in a performance boost.
Changes inside
This is the third generation of the aluminum iMac, and the design hasn't changed much since its introduction in 2007. The grey bezel, the black Apple logos front and back, the aluminum stand, the matte black plastic rear, it's all there, including the big glossy screen—much to the chagrin of anti-glare proponents. And there's no anti-glare option, either.
Apple offers four standard configurations of the iMac, three 24-inch models and only one 20-inch iMac. The iMacs still use TFT active-matrix LCDs. The 20-inch LCD is 1,680 by 1,050 pixels, and is a 6-bit color display that achieves millions of colors by dithering, like the previous 20-inch iMac display. And like that previous display, the new 20-inch iMac, when viewed at an angle, shows color and contrast shifts. But the display does look brighter than the previous 20-inch iMac display. The 24-inch LCDs, at 1,920 by 1,200 pixels, are 8-bit displays and look good at an angle.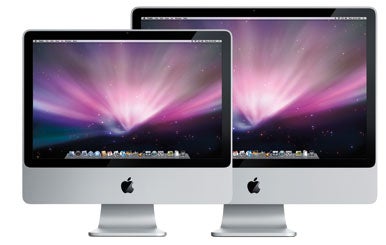 Behind the glossy screen is where all the changes have been made, resulting in a performance boost that reinforces the iMac's value. The iMac's Core 2 Duo processor speeds start at 2.66GHz, and include 2.93GHz and 3.06GHz. Previously, iMac processor speeds started at 2.4GHz, and included 2.66GHz, 2.8GHz, and a built-to-order 3.06GHz.
The system bus, used in communications between the processor and system memory is still at 1,066MHz, but now Apple uses 1,066MHz DDR3 RAM instead of the 800MHz DDR2 RAM in the previous iMac—this bump in RAM speed also contributes to the impressive speed increase over the previous iMac. Apple also doubled the amount of RAM in the standard configuration, with 2GB in the 20-inch iMac Core 2 Duo/2.66GHz, and 4GB in the other three models.
The hard drives in the standard configurations received a nice jump in capacity, too. Previously, there was a 250GB drive in the entry-level iMac, and 320GB drives in the other models. Now, the entry-level iMac has a 320GB drive, the high-end iMac has a 1TB drive, and the two models in between have 640GB drives.
The iMacs no longer use ATI graphics subsystems as standard equipment. The two 2.66GHz-based iMacs use Nvidia's GeForce 9400M, which shares 256MB of memory with the CPU. The 2.93GHz iMac uses Nvidia's GeForce GT 120 and the 3.06GHz iMac uses Nvidia's GeForce GT 130; those two iMacs have 256MB and 512MB of dedicated video memory, respectively. For artists and designers, and of course gamers, that means better performance for their graphics-intensive apps.
Apple made two major changes regarding the rear ports. First, the FireWire 400 port has been replaced by an additional USB 2.0 port, bring the total number of USB ports on the back of the iMac to four. The FireWire 800 port is still there, so you can use a FireWire 400 to FireWire 800 adapter cable to connect your FireWire 400-based peripherals. The second change is that the mini-DVI port for connecting an external display has been replaced by a Mini DisplayPort. You can connect a DVI-equipped display by using—you guessed it—an adapter, like Apple's Mini DisplayPort to DVI ($29).
The final major change is with the keyboard. The standard configurations now come with a compact wired keyboard that doesn't have a numeric keypad, or the home/end/page up/page down/delete group of buttons. It's as if Apple chopped off the right side of the keyboard. The full-sized keyboard is available as a customization option at no additional cost if you order an iMac through Apple.com.
Performance
It may sound trite to say that the new iMacs are the fastest iMacs we've seen—every new iMac is faster than the previous generation—but there are significant speed gains in this new generation. Let's start with the fastest iMac, the 3.06GHz 24-inch iMac; it posted an overall Speedmark score that was 24 points (8 percent) higher than the previous 24-inch iMac with the same 3.06GHz Core 2 Duo processor (then available as a build-to-order model). The new entry-level iMac, a 2.66GHz 20-inch model, had a Speedmark score that was 26 points higher (11 percent) than the previous entry-level model, a 2.4GHz 20-inch iMac.
The new 2.66GHz 24-inch iMac doesn't simply offer a bigger screen, more RAM (4GB versus 2GB), and a larger hard drive (640GB versus 320GB) than the entry-level 2.66GHz 20-inch iMac, which has the same processor speed. For the extra $300, you get a performance boost, too—the 2.66GHz 24-inch iMac posted a Speedmark score that was 14 points (5 percent) higher than the 2.66GHz 20-inch model.
There's a $400 difference between the high-end 3.06GHz iMac and the 2.93GHz iMac. Looking at the Speedmark score, there's only an 11-point difference (4 percent) between the two iMacs. But the key difference between the two is the graphics card; the 3.06GHz iMac has a 512MB Nvidia GeForce GT 130, while the 2.93GHz iMac has a 256MB Nvidia GeForce GT 120. The 3.06GHz iMac posted 7 more frames per second (11 percent) than the 2.93GHz iMac in our Call of Duty frame rate test.
For more benchmark analysis, check out Lab results: New iMacs show speed boost.
New iMacs Speedmark scores
New iMacs benchmarks
Speedmark 5
Adobe Photoshop CS3
Cinema 4D XL 10.5
Compressor
iMovie HD
iTunes 7.5
Quake 4
Call Of Duty 4
Finder
OVERALL SCORE
SUITE
RENDER
MPEG ENCODE
AGED EFFECT
MP3 ENCODE
FRAME RATE
FRAME RATE
ZIP ARCHIVE
24-inch iMac Core 2 Duo 3.06GHz
308
0:39
0:41
1:25
0:37
0:50
85.6
73.7
3:24
24-inch iMac Core 2 Duo 2.93GHz
297
0:41
0:43
1:27
0:38
0:53
81.7
66.4
3:31
24-inch iMac Core 2 Duo 2.66GHz
270
0:47
0:47
1:37
0:42
0:57
39.9
41.3
4:05
20-inch iMac Core 2 Duo 2.66GHz
256
0:51
0:47
1:40
0:45
0:57
39.7
37.3
4:20
24-inch iMac Core 2 Duo 3.06GHz* (April 2008)
284
0:47
0:41
1:27
0:36
0:48
84.9
73.1
3:29
24-inch iMac Core 2 Duo 2.8GHz (April 2008)
277
0:45
0:45
1:32
0:40
0:54
70.7
78.3
3:45
20-inch iMac Core 2 Duo 2.4GHz (April 2008)
230
1:02
0:54
1:42
0:45
1:00
32.5
33.4
4:33
>Better
>Better
>Better
Best results in bold. Reference systems in italics. * denotes build-to-order configuration.
Macworld's buying advice
The iMac continues to be a desktop Mac that's powerful enough to please both general consumers and professionals. Users who have a sizeable investment in FireWire 400 peripherals may be discouraged from upgrading, but we've probably seen the last of FireWire 400—you'll have to buy adapter cables sooner or later. And if you're waiting for a matte screen, don't hold your breath. Glossy is here to stay. An Apple representative told me that users can always use an anti-glare film to cut screen glare.
While the 20-inch iMac is an attractive model for the price, spend the extra $300 for the 24-inch 2.66GHz iMac. You'll get more RAM, twice the storage capacity, and better performance than the 20-inch iMac. The 3.06GHz iMac is the one to get if you want the best graphics performance.
[Roman Loyola is a Macworld senior editor.]