Nokia plans to launch its Comes With Music service and open Nokia Music Stores in more countries in the coming months, it said on Wednesday. The company also showed two new XpressMusic phones.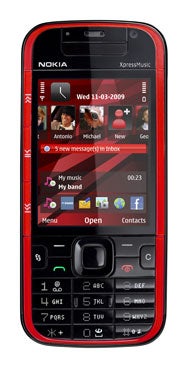 Comes With Music packages mobile phones with a year or 18 months of unlimited access to about 5 million tracks in the Nokia Music Store, and allows buyers to keep any tracks they download even after the year is over, according to Nokia.
The service will launch in Italy, Sweden, Mexico and other countries in the coming months, Nokia said, without providing more details.
The other countries will be announced closer to their opening times, said Steven Stewart, Product Manager for Music Solutions at Nokia. He also expects to soon have more information about a launch in North America.
The service is currently available in the U.K. and Singapore, and Nokia previously announced it will launch in Australia later this month.
Nokia has been tight-lipped about the success of Comes With Music. However, the recent decision by a U.K. reseller of Comes With Music phones, Carphone Warehouse, to cut the price of the Nokia 5310 isn't a good sign, according to analyst Paolo Pescatore of CCS Insight.
Discussions with Carphone Warehouse have also led Pescatore to believe that Comes With Music hasn't been as successful as the phone reseller had expected, he said.
One problem in the U.K. is that the marketing has been confusing and does not properly explain what Comes With Music offers, according to Pescatore. Improving the marketing and making the service available on more devices should help it become more popular, Pescatore said.
Nokia has opened Music Stores in 15 countries, and will continue to open more. On Wednesday, Mexico became the latest country to launch a Nokia Music Store. Stores in Portugal, Norway and South Africa will open in the coming months.
The two new XpressMusic phones are the 5730 and the 5330.
The 5730 XpressMusic is a side-slider and Nokia's first music-centered device to offer a QWERTY keyboard. It comes with support for both Wireless LAN and HSDPA (High-Speed Downlink Packet Access) at 3.6Mbps. Music is stored on an 8GB MicroSD memory card.
The phone will ship in Europe during the third quarter and cost about €280 (US$356) before operator subsidies and taxes.
The 5330 XpressMusic will also ship during the third quarter and cost about €160 before subsidies and taxes. It's a 3G phone that stores music on MicroSD cards, although none are included in the box. The phone will be available in North America and Europe, Nokia said.
Both models have a 2.4-inch display, a 3.2-megapixel camera and support for Assisted-GPS. They will both be Comes With Music devices, according to Stewart.
Finally Nokia also announced its first mobile phone with an internal FM radio antenna: the 5030 XpressRadio. It will ship during the second quarter and will cost €40 before subsidies and taxes, making it Nokia's cheapest radio-equipped phone yet.