Apple updated its iTunes music jukebox and device-management software to version 8.1 on Wednesday, adding support for the new line of iPod shuffles released earlier in the day, and adding several other new features, most notably adding Genius Sidebar support for movies and television shows.
Apple first introduced Genius in September 2008 as a way for users to create playlists and find new music based on what they are already listening to. Now that functionality is available for movies and TV shows as well, according to Apple. The Genius Sidebar will find relevant videos much the same way it finds music. When you click on a movie, iTunes will recommend new content that you may like from the iTunes Store. (We were unable to verify this feature for ourselves, though it's possible this feature will be enabled via a server-based Genius update at a later time.)
In iTunes 8.1, the Party Shuffle feature introduced in April 2004 has been rechristened iTunes DJ. While this feature has been around for some time, Apple added some new functionality specifically designed for iPod touch and iPhone users.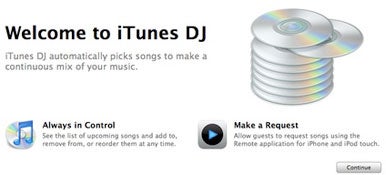 With iTunes DJ, iPhone users that have Apple's Remote application installed can request songs to be played. Users can also vote to control when songs are played. The DJ feature even has its own preferences, so you can send a welcome message to users and control whether voting is turned on or off. You can also require users to type in a password to access iTunes DJ's features.
Parents can now restrict access to the iTunes Store, while allowing access for iTunes U, Apple's iTunes-based learning center. CDs can also be set to automatically be imported at the same sound quality as iTunes Plus.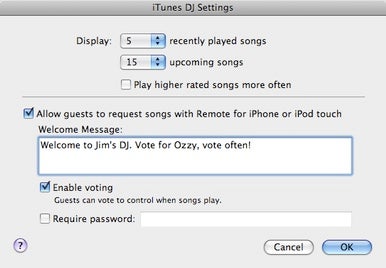 Apple said the update offers several other improvements to iTunes, including many accessibility improvements and better performance when downloading iTunes Plus songs. Other improvements involve working with large libraries, browsing the iTunes Store, preparing to sync with iPod or iPhone, and optimizing photos for syncing.
iTunes 8.1 is available as a free download from Apple's Web site.