At a Glance
Expert's Rating
Our Verdict
Most modern Web browser offer basic PDF-reading capabilities, and if you've installed an Adobe product, you've likely got additional functionality thanks to Adobe's browser plugin. But for years, a better alternative was found in PDF Browser Plugin, a free (for non-commercial use) plug-in that provided a better set of features for viewing PDFs in your browser. Unfortunately, when Apple made the transition to Intel-based Macs, PDF Browser Plugin did not, and I've been receiving emails from readers ever since asking about an Intel version. With SchubertIt's release of PDF Browser Plugin 2.3, such a version is finally here, and it's as useful as ever.
Drop PDF Browser Plugin into your Internet Plug-Ins folder (in /Library if you want it to work for all user accounts on your Mac, in ~/Library if you want to restrict it to just your own account), and clicking on a PDF link on a Web page loads the document in your browser window, as usual. But instead of just the basic commands—in the case of Safari, zoom, save, or open in Preview—you get a slew of additional features.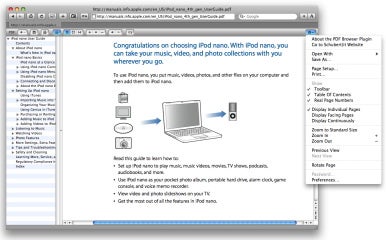 The first thing you notice is that your browser now displays the PDF document's table of contents (if one exists) and lets you navigate sections just as you would in Preview or Adobe Reader. The second is a new PDF toolbar at the top of the viewing area. Using the buttons on this toolbar, you can open the PDF in Preview; open the PDF in any other program; save or print the PDF; view or hide the table of contents; display the PDF as individual pages, as facing pages, or as a continuous document; zoom in, out, or to the original size; quickly skip between previous views and view settings; and rotate the PDF. These options are also available via the action menu on the right-hand side of the toolbar and by right-clicking anywhere in the PDF view.
PDF Browser Plugin also works with protected PDFs, letting you provide a document's password to view or print; displays annotations if a document contains them; and allows you to insert text into forms right in your browser. Another neat option displays both the "real" and on-page page numbers, making it easy to figure out which page to print when the one labeled 3 is really page 10. The plugin lets you view PostScript documents in your browser, as well.
Finally, one of my favorite features—though one that's perhaps too difficult to discover—is split view. Just above the up arrow in the scroll bar is a small "handle"; grab that handle and drag it down a bit, and it becomes a bar that splits the viewing area into two sections. Each section has its own scroll bar, letting you view two different parts of the current document simultaneously.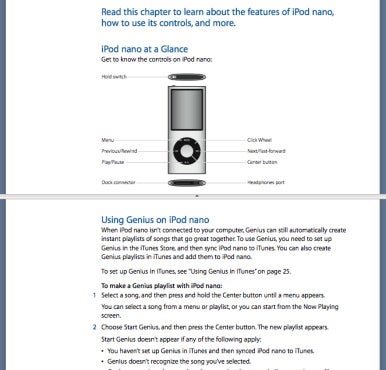 One feature I couldn't get to work was custom print options. The plugin is supposed to add new options to the print dialog, allowing you to choose the print scaling and orientation, as well as whether or not to print annotations. These options should be found in a PDF Browser Plugin screen accessed via the print dialog's options pop-up menu; however, the option never appeared for me. But my biggest annoyance with PDF Browser Plugin is that you can't scroll through a PDF using your mouse's scroll wheel or your trackpad's scrolling gesture; you must use the scroll bar or the keyboard.
While PDF Browser Plugin isn't quite the must-have as it was when I first covered it over five years ago, given that most browsers now include some kind of PDF-reading feature, it's still a great add-on that improves your online experience. The plugin currently works with Safari (including Safari 4 Beta), iCab, OmniWeb, and the Intel version of Firefox 3.1b or later. Note that if you have Adobe's PDF-reading plugin installed, you'll need to turn it off in Adobe Reader's preferences.
Want to stay up to date with the latest Gems? Sign up for the Mac Gems newsletter for a weekly email summary of Gems reviews sent directly to your Inbox.