As a part of my iPhone Readers' Guide, I discovered that we hadn't yet reviewed three iPhone e-book reader apps. These apps all have unique features that make them worth considering; they also have flaws that prevent them from being the class of the category. That distinction still falls on Lexcycle's Stanza ( ).
eReader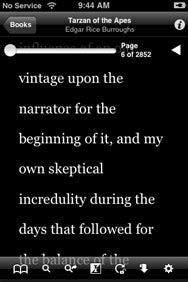 The free eReader from Fictionwise is sort of the granddaddy of e-book apps and a powerful and popular reading tool. eReader supports an array of file types. And eReader wins plaudits for letting users choose to either flip pages or scroll text. Even better yet, eReader lets you select and highlight text, add notes, and look up words in a dictionary—which Stanza and the Kindle for iPhone ( ) apps do not. (You need to buy a reference work in a compatible format and have it open in the app; eReader won't work with any other dictionary applications This is less than ideal.)
Although eReader lets you adjust type, spacing, margins and colors, that app isn't quite as customizable as Stanza. For example, you're limited to six font sizes, ranging from "small" to "gigantic."
But, oh, is eReader ever…so… slow. Even though you download the books to your device, the app crawls when it loads up the text. And it is not easy to load e-books that either were not purchased through eReader.com or Fictionwise or downloaded from manybooks.net. Try downloading a book from Project Gutenberg on eReader; then try downloading the same book on Stanza. There really is no comparison, and eReader suffers for it.
A note about Fictionwise.com's pricing and selection: One clear advantage Amazon.com has right now over Fictionwise.com and eReader.com is price. Prices for most Kindle titles are 25 to 50 percent lower compared to other e-book retailers. But that could change. Barnes and Noble on March 5 announced that it bought Fictionwise for $15.7 million and plans to launch a new e-book store later this year. Some competitive pricing, especially in a down economy, could make e-books even more interesting in the coming months.
Get more info on eReader at the App Store.
BookShelf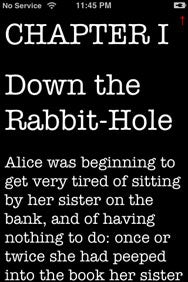 This $6 app from Zachary Bedell endeavors to answer the burning question: How the devil do I pull all of my old Palm-formatted e-books off my antiquated handheld device and put them on my iPhone? BookShelf uses Apple's Bonjour networking to let readers set up their own "shelf servers" to manage their e-books. The app supports more than at least a half-dozen e-book formats.
Trouble is, the app looks and feels like my old high school library—utilitarian and unlovely, mostly functional but stern and not always user friendly. All that's missing is the stern nun behind the check-out desk. BookShelf does offer some interesting customizable features, including a choice of more than 20 scalable typefaces and an array of background colors. You can scroll text with your finger or press a "play" button and have the text scroll automatically at a speed you can set. But with the exception of the scrolling function, Stanza handles e-books much more efficiently.
Get more info on BookShelf at the App Store.
iFlow readers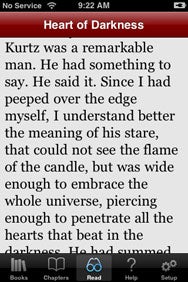 BeamItDown's iFlow reader is a bit different from the other readers here. The Irvine, Calif.-based developer packages and sells more than 60 book collections, including Fifty Great Books for Ten Bucks , using the identical interface. So you aren't buying a single iFlow reader, but rather multiple multi-volume sets of books, priced anywhere from free to $10.
What sets the iFlow Reader app apart from most other readers is the scrolling. The text scrolls like a teleprompter, and you control the speed by tilting the screen. Anyone familiar with Instapaper Pro will recognize the feature immediately. The interface is clean and easy to use, with about 50 different adjustable typefaces, nearly two-dozen text colors and backgrounds to choose from.
The one obvious downside of BeamItDown's book collections is there appears to be no way to manage them all from a single application. And you cannot currently import your own books. But the developer says it is working on adding several features, including a search and annotation, in future updates.
Get more info on BeamIt Down Software from the App Store.