Designed to add some privacy to the photos stored on your iPhone or iPod touch, PicVault is a straight-forward app with compelling organizational features. With John Moffett's app, you can lend your mobile device to a friend without fear of them probing personal photos—specifically the ones from when you painted the town red and neglected to invite them along.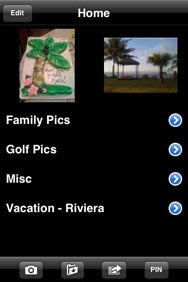 The app icon appears as a calculator on your device's screen, further distracting prying eyes. Launch PicVault and a calculator-like input window appears, asking you to "Enter Your Calculation." It's actually asking for your password. Enter it correctly, and you're taken to the app home screen. Mistype, and the following message appears: "ERROR: The application will now shut down," and the app closes. (Note that there's no way to recover a lost password so choose yours wisely.)
The real beauty of PicVault lies in its ability to organize photos by user-defined folders. It also communicates with the default Photos app, allowing you to add images from your archive both individually and in batch mode; you can also export back out if needed. The only drawback, which the developer is working on, is that PicVault works best with fewer than 50 photos per folder.
Combining privacy, functionality and free lifetime upgrades, PicVault is a rare must-have app.
PicVault is compatible with any iPhone or iPod touch running the iPhone 2.x or greater software update.
[ Nate Kennedy is a digital junkie who enjoys making time to smoke a good brisket. He works as an Expedition and Outdoor photographer, freelance writer and web designer near Minneapolis. You can follow him on Twitter.]