Depending on your frame of mind, a blank page can be daunting or promising. If you are an aspiring fingerpaint artist, you will love the interface of Scribble—an infinite number of blank pages, waiting for your masterpiece.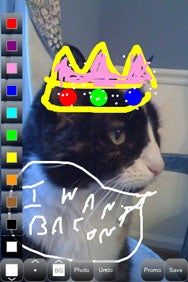 Scribble from Zintin is an art app reminiscent of MacPaint (though with even less functionality than that classic bitmap-based painting application released a quarter-century ago). With nothing more than a blank white page in front of you, you can scribble and draw lines of different colors and thicknesses; you can also change the background color. The minimal tool set is accessible at the bottom of the screen, popping up when you touch an icon and minimizing again after you make a selection. Scribble's well-designed interface stays out of your way. What you create from that minimal toolset depends on your art skills and the dexterity of your fingertips.
If the tabula rasa proves too daunting for the aspiring artist, you will want to take advantage of the app's photo feature. Tap the Photo button, and you can import a copy of any image from your photo library. You can draw on the image, annotate it with free form text, and then save a copy. (The original is not modified by any of your doodling.) Try it, and you will find many uses. I have taken photos, used Scribble to make an arrow to point at something in the photo, and scribble the words, "This one." Since a picture is worth a thousand words, mailing the marked-up photo proved far more efficient than tapping out an e-mail
My young children also love this app. Several car rides have been saved, as my daughter whiled away an hour or two importing photos and scribbling on them. By the time we reached our destination, everyone in my family sported a mustache and a pig on their head.
Scribble is efficient, stable, and free. All apps should work as well as this delightful gem.
Scribble is compatible with any iPhone or iPod touch running the iPhone 2.x software update.
[Jeffrey Hatton is a freelance writer living in Virginia.]