We're no stranger to odd happenings in the world of Apple—sometimes it's a bit like ufology or cryptozoology, all apocryphal stories and blurry photos. But the company's predilection to secrecy doesn't always help clear up matters when confusion arises. Case in point, the puzzling absence of an advertised feature in iTunes 8.1—namely, the addition of Genius playlist features for television and movies.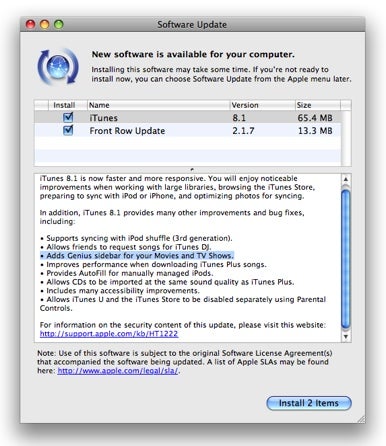 The feature, which appears in the iTunes 8.1 release notes on Software Update (pictured) also showed up on the iTunes feature list on Apple's Web site—or, at least, it did prior to the software's official release yesterday. I wasn't the only Macworld editor to spot the information, nor was Macworld alone in reporting that the functionality was included in the update— Infinite Loop noted the feature in its iTunes 8.1 story as did gadget blog Gizmodo.
But the feature just isn't there. The Genius button appears in the bottom right corner of iTunes's window as usual when you're in the Music section of the Library, but switch to the TV Shows or Movies headings and it disappears without a trace.
Later checks of the iTunes feature page showed that all references to the Genius feature now only mention music, though the video functionality still shows up in the Software Update release notes.
So where did the feature go? Or—if you prefer the more mind-bending question—was it ever really there? We put in a call to Apple to see if they could tell us what happened to the missing feature and reached Apple spokesman Tom Neumayr, who told Macworld, "The feature isn't live yet, but it will be in the coming days."
Mystery solved. In the meantime, you may now return to your regularly scheduled Bigfoot hunting.