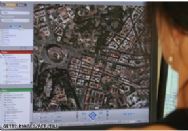 Joel Anderson, a Republican California state assemblyman from San Diego County, wants to make sure that the terrorists can't win. Because obviously, the only thing that's allowing them to commit heinous acts is having access to the Internet. Specifically, to services like Google Earth.
About a month ago, Anderson introduced Assembly Bill 255, which would fine Web sites and other online services up to $250,000 per day for not blurring out schools, places of worship, medical facilities, or government sites on satellite or aerial imagery. The same restriction would apply to street-level shots like Google Maps's Street View feature. Knowingly violating this law could also result in jail time of up to 3 years for the operator.
Why? In an interview with CNET, Anderson said:
"Well, I looked at where we've had security issues in the past and potentially, might have issues in the future. Churches and synagogues have been bombed. So have federal buildings and then, of course, 9/11. So, the threats are out there and as a state legislator, public safety is my No. 1 job. To ignore that fact would be irresponsible."
While we appreciate the attempt to make people safer, the idea that restricting this particular form of technology is going to make that happen seems a bit oversimplified. Atrocious acts have been committed with much lower levels of technological sophistication than something like Google Earth provides. There's also the matter of the slippery slope: if we start blurring out government buildings, schools, and places of worship, what's to stop us from blurring other places where crimes might be committed, like banks or your neighborhood convenience store?
Noted security expert Bruce Schneier penned a piece on terrorism and technology earlier this year that addressed this very idea:
Criminals have used telephones and mobile phones since they were invented. Drug smugglers use airplanes and boats, radios and satellite phones. Bank robbers have long used cars and motorcycles as getaway vehicles, and horses before then. I haven't seen it talked about yet, but the Mumbai terrorists used boats as well. They also wore boots. They ate lunch at restaurants, drank bottled water, and breathed the air. Society survives all of this because the good uses of infrastructure far outweigh the bad uses, even though the good uses are – by and large – small and pedestrian and the bad uses are rare and spectacular. And while terrorism turns society's very infrastructure against itself, we only harm ourselves by dismantling that infrastructure in response – just as we would if we banned cars because bank robbers used them too.
Schneier's arguments make sense, in my opinion—more so than Anderson's vague assertions that these are the tools that terrorists are relying upon, anyway.