The upside: Tron was a great, imaginative movie that gave Jeff Bridges and Bruce Boxleitner solid footings for their acting careers.
The downside: Tron made everyone who saw the movie desperately want a light cycle.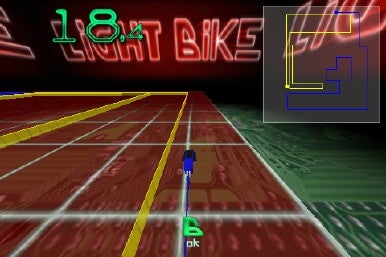 Enter LightBike by Pankaku. Based on the light cycle sequence from the movie, LightBike has you take control of a light cycle and compete against either three computer-controlled light cycles or human opponents on your iPhone or iPod touch.
Like the movie, you race against opponents on a computer grid, your light cycle leaving behind colored paths that can't be crossed lest you or your opponent crash and lose a life. It's similar in essence to the computer game Snake, which has been around almost as long as there have been computer games.
You turn by tapping either the left or the right side of your iPhone or iPod touch's screen to move in the corresponding direction, but you must remain on the game grid to stay alive.
LightBike's graphics and sound faithfully recreate the movie and add to the feel of the title. While the graphics don't push the envelope, the level of detail is good. The game is visually appealing and you feel as if you're in the movie. An energetic soundtrack grabs your attention and a bevy of futuristic yet satisfying crashing noises let you know you've managed to cut an opponent off and killed them or turned too late and met your own demise.
It's the controls that sell LightBike and make the title great. Quickly tap either side of the touch screen and the light cycle will make a 90-degree turn on a dime with almost no delay. Unfortunately, there's currently no accelerometer support and tilting the iPhone won't change the light cycle's speed.
Multiplayer on LightBike is a little strange but manages to come through with flying colors. Choose the "Two Player" option and the game will open with a split screen, both players needing to grab their end of the iPhone and begin tapping their side of the screen to execute turns and compete against both computer controlled opponents as well as each other. Choose the "Wifi-Mode" setting and the game will find an opponent provided both users have activated Wi-Fi on their iPhone and signed into a local wireless network.
LightBike ran beautifully on my iPhone with no appreciable slowdowns or crashes, but the game still has room to grow. Power-ups, weapons, additional difficulty settings, an online score board or additional arenas to compete in would make the game even more interesting. Other customization features such as being able to choose your favorite color light cycle would be appreciated, though these are minor shortcomings at best.
Pankaku has done a great job with LightBike and for $3 on the App Store, there's no better way to kill 10 minutes. (Note that a free lite version is available, though only with a single-player mode.) With room to grow, it'll be interesting to see what happens in the next few updates and what the company chooses to add.
LightBike is compatible with any iPhone or iPod touch running the iPhone 2.2 software update.
[Chris Barylick is a frequent contributor to Macworld and has yet to own a light cycle or create a Tron costume for himself or his neighbor's pets – yet.]