The NCAA Division I men's basketball tournament—March Madness to you and me—starts next week, and with it comes equal doses of pleasure and pain for sports fans. The pleasure comes from the sheer volume of basketball being played at once—32 games in the first 48 hours of the tournament! And the pain? Well, if you happen to be an office-bound sports fan, you're reduced to sneaking a furtive glance at the Web to get your hoops fix. And if you're lucky enough to be near a TV, you're most likely at the mercy of your local CBS affiliate and whatever game it chooses to air.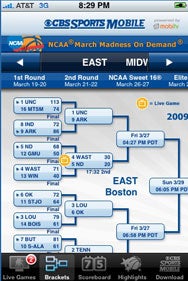 But not if you have the iPhone and a newly released app from CBS Sports Mobile. E-mail, Web access, phone capabilities… and any NCAA tournament game I care to watch? Oh, iPhone, there is truly nothing you can't do.
The app, CBS Sports March Madness On Demand, is now available from the App Store. The $5 app streams every NCAA tournament game to your iPhone or iPod touch over Wi-Fi. No Wi-Fi connection available? Well, you won't be able to get the video feed, but the app will deliver audio streams over the 3G and EDGE networks.
In addition to live streams, the app also scores, recaps, highlights, and bracket information so you can see at a glance how horribly you're doing in your office pool. The app will deliver content from the start of the tournament next week all the way through the April 6 championship game. (And if you'd prefer to not plunk down $5, CBS still offers a free desktop option.
The CBS app was developed in conjunction with MobiTV, which delivers TV programs to mobile devices. CBS and MobiTV inked a deal for some the Tiffany Network's prime-time shows back in January.
CBS Sports March Madness on Demand isn't the only basketball tourney-themed app to make its App Store debut this week. The free—and much more simply named— NCAA Highlights delivers archival video footage. Specifically, Thought Equity Motion's app includes 18 original video programs mostly featuring highlights from tournaments past. That includes footage of the 1979 NCAA Championship game that pitted the collegiate versions of Larry Bird and Magic Johnson against one another, as well as highlights from every championship game since 1982. And if you'd rather look ahead than look back, the app promises previews of the 2009 tournament.
Compatible with any iPhone or second-generation iPod touch, NCAA Highlights delivers its video over a Wi-Fi or 3G connection. You can pause, fast forward, and replay the action as you wish.