In my gig as a Web developer, I rely heavily on SmileOnMyMac's TextExpander to insert text snippets, programming code, e-mail signatures, or any text that I reuse regularly via keystroke shortcuts I've assigned. For example, when I type /sig, TextExpander inserts my four-line business e-mail signature. It's a huge time saver and I can't imagine working on my Mac without it.
Ettore Software's TypeIt4Me is a similar utility, so I was excited to learn of its iPhone companion called—quite appropriately—TapIt4Me.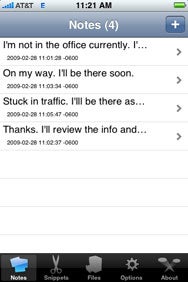 TapIt4Me can use TextExpander and TypeIt4Me snippet files. But what if you don't use those programs, turning to Microsoft Word's auto-correct feature? There's a macro available that will convert them to the proper format. To use your snippets in TapIt4Me, just copy the files to your iDisk, provide TapIt4Me with your MobileMe login info and you're done. (Note: If you don't have a MobileMe account, Ettore Software provides instructions for alternative methods.)
Your keystroke shortcuts work identically, but I was let down when I realized that TapIt4Me is not as seamlessly integrated on the iPhone (though in fairness to the developer, this is a limitation of the iPhone's Software Development Kit.) While TypeIt4Me will insert snippets directly into any desktop application, TapIt4Me makes you compose your messages entirely within special "notes" pages. Once your note is completed, though, a simple tap of an icon will send the entire text block to the Mail app. If you've provided TapIt4Me with your Twitter account info, you can also tweet your note.
I quickly got over my initial disappointment once I realized that I could save—and reuse—my TapIt4Me notes. For example, most of the messages I send from my iPhone are fairly short, and there are quite a few "canned" messages that I send when I'm mobile, like "On my way." or "Stuck in traffic." For me, the next best thing to being able to insert those phrases in real time is having them saved in TapIt4Me notes and ready to use.
So, while I was initially dissatisfied that TapIt4Me didn't work exactly like the Mac version of Ettore Software's utility, being able to save and reuse notes has earned the app a permanent place on my iPhone.
TapIt4Me is compatible with the iPhone and iPod touch running the 2.x software update
[Brian Beam is a Web developer and lazy typist living somewhere near Kansas City.]