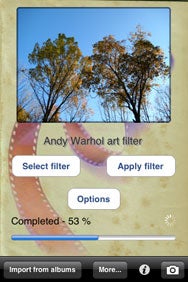 ArtCamera can add some pizazz to the photos you've got stashed on your iPhone or iPod touch. The app from MacPhun lets you apply artistic filters—21 of them in all—to an image that's either stored in your Photo Library or, using the iPhone's built-in camera, one that you've just taken.
ArtCamera's more than two dozen filters range from blur to grayscale. The app also offers filters that mimic the works of Monet, Picasso, and Andy Warhol. Select a filter from a list and tap the Apply Filter button to render a full screen preview of the new image. If you're happy with the result, save the image to your iPhone's library alongside the unaltered original. You can also apply multiple filters to any image—ArtCamera doesn't limit you to just one.
Perhaps ArtCamera's most impressive feature is the fact that it includes an option menu that lets you pick a desired resolution for your new photos. Supported resolutions range from 320 pixels wide up to 1,600 pixels wide. You'll get faster previews with the smaller resolutions, but better images at the larger ones—though it will take longer to apply the filter.
There's also a free version of ArtCamera featuring a more limited number of filters; you also can't save images with ArtCamera Lite. Still, it's not a bad version to download as a free trial for the full app.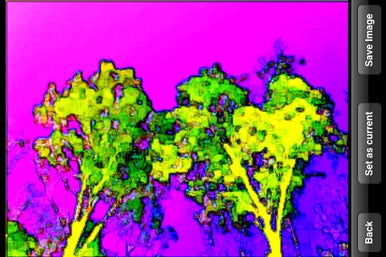 ArtCamera is a relatively straightforward utility which complements the iPhone's built-in camera well and gives some welcome tools for sprucing up the photo collection on your mobile device.
Art Camera is compatible with any iPhone or iPod touch running the iPhone 2.2 software update.
[Brendan Wilhide is a contributor to Macworld.com.]