Apple's announcement of the third-generation iPod shuffle brought something many of us never thought we'd see (other than in a Saturday Night Live skit): an iPod with no buttons. There's a switch for turning the shuffle on and off, but the familiar—and easy to use, I might add—five-button control pad has vanished.
So how do you control the new iPod shuffle? The bundled Apple earbuds—similar to the Apple Earphones with Remote and Mic the company has been selling since last fall for use with other iPod models—include a small, inline controller with just three buttons: volume up, volume down, and, well, let's just call it Button. You use Button for nearly all playback functions: Press it once to play or pause playback; twice to skip forward a track; three times to skip back a track; twice and hold it to scan forward; three times and then hold it to scan backward; once and hold it to tell the shuffle to speak the name of the current song; or once and hold it longer to tell the shuffle to speak the names of playlists, using the volume buttons to "scroll" through the list—press Button again to choose a playlist. (I'm reminded of The Onion's MacBook Wheel parody: a laptop with no keyboard—just a big Click Wheel.)
Apple's new control method raises the obvious question: If the only way to control the new iPod shuffle is using this inline controller, where does that leave people who prefer to use different headphones, whether for better sound, better noise isolation, or better comfort? (Not to mention those people who, thanks to non-Apple-approved anatomy, can't get the stock earbuds to stay in their ears.)
If your standard way to listen to a shuffle is just to press Play and never touch the controls again, you can use any headphones: the new shuffle begins playback as soon as you turn it on. Of course, unless your headphones offer their own, separate volume control—some larger noise-canceling headphones do—you won't be able to control playback volume without a compatible remote. You could set the volume using the stock headphones and then swap to another set, swapping back whenever you need to adjust volume, but that's a hassle.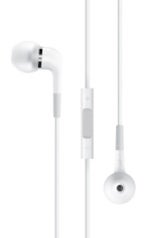 Apple's official alternative is the company's own $79 In-Ear Headphones with Remote and Mic. Introduced last fall with the latest iPod touch, nano, and classic models, these canalbuds offer a different fit and better noise isolation than the stock earbuds, but with the same inline controller. (The controller also includes a microphone, but you won't benefit from that mic when used with the shuffle; it's for use with the latest iPod touch, nano, or classic models to record voice memos.) I haven't been very impressed by the sound quality of the In-Ear Headphones with Remote and Mic, though some people have been.
What about all those headphones for the iPhone that include an inline controller? While you might think that such controllers would work with the shuffle, at least for playback control, they don't. Pressing the controller button on an iPhone headset does nothing for the shuffle.
In other words, if you don't like the fit or sound quality of Apple's headphones, you're currently out of luck (with one exception, which I'll get to momentarily). Apple told Macworld the company is working with third-party vendors on solutions—meaning headphones with compatible inline controllers, as well as adapters that provide an inline controller for use with your favorite headphones—but those products aren't yet available. ( Scosche, Klipsch, V-Moda, and Monster have all announced such products, due over the next few months.)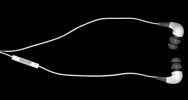 The current exception is a product I've been enjoying testing recently: Ultimate Buds' UB7EB. Ultimate Buds takes a set of FutureSonics/XtremeMac FS1 in-ear-canal headphones and replaces the stock cables with those from Apple's own headphones, giving you much better sound quality, as well as superior noise isolation, along with the very same inline controller and microphone as Apple's Headphones with Remote and Mic. (Ultimate Buds includes a 6-month warranty and a lifetime repair policy on its handywork.) I'm a big fan of the FS-1—it won our 2005 Plays of the Year Award—and I was impressed when I reviewed the original UltimateBuds, which fused Apple's stock iPhone headset with the original iPhone headphone cable with controller. After testing the UB7EB , I can tell you it works great with the new shuffle. Of course, at $110, the UB7EB is $30 more than the cost of the shuffle itself, but if you want better sound or isolation, the price may be worth it. Plus you can use the UB7EB and its controller with the other recent iPod models, as well as the iPhone (although the volume buttons don't work with the iPhone).