Beautiful, peaceful, and unique, Zen Bound has been heralded by many as the best app yet released for the iPhone and iPod touch. Its beautiful, low-lit graphics and calming soundtrack lull players as they rotate carved wooden animals and wrap them in rope, aiming to cover as much as their surface area as possible.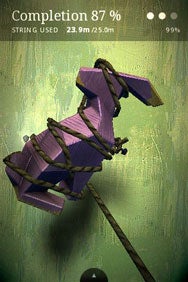 With 51 levels in all, each labeled with a cryptic but reflective name—like Solitude and Obedience—the game proves mildly challenging yet relaxing, a truly Zen-like approach to tying up statues with a touch screen. Still, while Chillingo's game may be great, it bears saying: it's not perfect.
To reach those 51 levels, players slowly rise up along two cherry trees illuminated by paper lanterns, which indicate that new puzzles have opened up. Defeating each challenge can earn you one to three flowers, depending on what percentage of the object's surface area you cover before cutting your rope on a protruding nail. Three flowers means 99 percent, an expert feat with requires careful planning. Not only is it important to conserve rope—the total you have to work with is listed at the top of each level—but players also face the conundrum of what to tie up first so as not to block out crevices in the future. Should you go for the crocodile's arms, or his open mouth?
Rather generous with the amount of space each turn of the rope covers, Zen Bound is less about difficulty than it is about enjoying the process. And since each level only takes a few minutes, it's an ideal chill pill for stolen moments during a commute or just as a breather when you're feeling stressed.
Sit down to play the game for an extended period of time, however, and the challenge plateau gives you little motivation to move on. Since every level proves just about as hard as the one before, the thrill of pushing forward remains noticeably lacking, especially once the initial enchantment of the game has begun to wear off.
Also frustrating is the game's execution of the touch screen. For the most part, using your finger to rotate an object feels easy and intuitive. Sometimes, though, a carved animal will get turned around, making it impossible for you to see the area you're trying to cover.
Still, Zen Bound's flaws are far outweighed by its appeal—as evidenced by so many of its positive reviews at the App Store. New to both the iPhone and the world of casual games, the 3-D binding mechanic has a tactile quality that's bolstered by the beautiful rendered textures of the wood and the backgrounds.
Zen Bound adds a new allure to rope tying, even if you were never a Boy Scout or a sailor. Only time will tell what other games this unique app will inspire.
Zen Bound is compatible with any iPhone or iPod touch running the iPhone 2.2 software update.
[Bonnie Ruberg is a San Francisco freelance writer whose work has appeared at Forbes.com, The Village Voice, and other publications.]