Watchmen, one of the best graphic novels of all time, has been turned into a movie. Predictably, Warner Bros. is cashing in by releasing Watchmen video games, including one for the iPhone. Watchmen: Justice is Coming is a role-playing game for the iPhone and iPod touch that has some intriguing features and is also plagued with problems.
With real-time 3-D rendering and online play, Justice is Coming seeks to emulate features found in desktop massively multiplayer online (MMO) games. Just like the characters that populate the graphic novel, though, there are sides of this game that are good, bad, and downright ugly.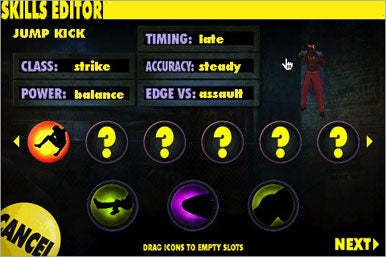 Read more…
The good
The concept of building an MMO for the iPhone and iPod touch is a pretty solid idea. With Watchmen: Justice is Coming, you have all the elements you'd expect from an MMO. After selecting a character and assigning attributes like a name, gender, skin color, and personality type, your character is tossed into the world of the Watchmen. You run around in 1975 New York seeking out artifacts and completing story objectives in order to level up your character. You can also gain experience by combating criminals and other players in battle. Along the way you'll collect various costume parts that allow you to customize your character in more unique ways.
There are very few successful MMO-based games on the iPhone and iPod touch, so I applaud the developers for coming up with a game that proves that this kind of game is possible. Is it as robust as a lot of desktop-based MMO games like World of Warcraft and Star Wars Galaxies? No, it isn't, nor is it supposed to be. You can only do so much with a mobile device. What Warner's game division accomplished with Justice is Coming is pretty amazing as a proof of concept, but beyond that they still have a ways to go.
The bad
When I first heard about Watchmen: Justice is Coming I thought, "Cool! So does that mean we'll be able to play as Rorschach?" Unfortunately, no. Nor will you really see Rorschach in the game. This brings me to the downside of the game. While the world of the Watchmen is incredibly dense and rich with history, it just isn't all that interesting without the characters that drive the story.
This is Watchmen—not Superman or Batman. Thus, roaming around the world of the Watchmen isn't like roaming around Metropolis or Gotham. Without any appearances from any of the memorable characters from the movie and/or graphic novel, the game starts to get a little monotonous and doesn't really feel like it goes anywhere.
The ugly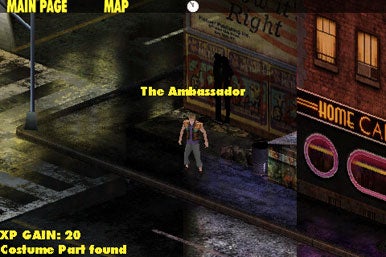 But the biggest problem with Watchmen: Justice is Coming lies in simply maintaining a connection to the game. The game requires a wireless connection. Initially, I tried to play via the EDGE network and then 3G. EDGE hardly connected at all and, when it did, it didn't stay connected for long. 3G fared a little better but still didn't stay connected.
I had much better luck with Wi-Fi but, even then, the stability of the servers leaves a lot to be desired. I still noticed plenty of disconnections, sluggish performance, and drop-offs as I played the game. Connection issues were frequent enough that it made playing the game downright frustrating. And my experience isn't an isolated one, if user reports posted at the App Store are anything to go by.
With lackluster play and intermittent connection issues, the only thing you'll be doing with this game is muttering "Hurm!" every five seconds. Now I know how Rorschach really feels.
I like the concept of a mini-MMO on the iPhone and iPod touch. Anyone who comes up with a great concept that is actually playable will likely profit well from it. However, in the case of Watchmen: Justice is Coming, the concept falls flat.
Watchmen: Justice Is Coming is compatible with any iPhone or iPod touch running the iPhone 2.2. software update.
[Jeff Whitfield is a web developer out of Dallas, working on the open-source MODx project.]