At a Glance
Expert's Rating
Pros
Bookmarks let you go to exactly where you need to
An integrated social-networking feature gives you easy access to real users
Easy to find information and locations for entering data
Ability to download and import data from W-2 and financial institutions
Cons
More expensive than TaxCut
Can't import files from TaxCut
Our Verdict
With economic stimulus and bailouts in the news almost every day, this has got to be the one of the most confusing tax seasons in years. You can trust both Intuit TurboTax and H&R Block TaxCut to be your expert guides through the process. TaxCut 2008 improves on last year's respectable version with clearer explanations, while TurboTax 2008 has major new and innovative features that further simplify tax preparation. Both are competent in preparing complex tax returns, both provide oodles of advice, and both check for errors and let you file electronically. TurboTax costs a little more, but it's a better piece of software.
TaxCut and TurboTax both give you access to actual IRS tax forms, but the power in each is the use of an interview-style questionnaire interface that coaxes information out of you while explaining what you need to enter. TurboTax's interview is easier to use and navigate; it's also better at leading you to ways to save money that you might not have been aware of. It has some innovative new features as well, including customizable bookmarks and a built-in Web 2.0 help feature called Live Community, where uses supply both the questions and answers to almost any tax question you can think of.
There are almost as many versions of these two programs as there are for Windows Vista. With Intuit's TurboTax desktop products, I looked at the $100 TurboTax Home and Business. If you're not self-employed, TurboTax Premier runs $90. If you don't need help with rental property or investment issues, there's TurboTax Deluxe at $60. All of these editions include a state return. A $30 Basic version is for people who don't have deductions, and it doesn't include a state return or the audit risk assessment feature of the other versions.
H&R Block has similar choices: For this review I looked at TaxCut Premium Federal + State ($50) because the $80 TaxCut Home & Business does not appear to be Mac-compatible. H&R block also offers TaxCut Premium Federal ($35, no state return) and TaxCut Basic Federal ($20), which is similar to Intuit's TurboTax Basic.
The more complex your tax return, the more value these tax programs will be. I found that they provide good results with a return that included salary and self-employment income, rental property, various itemized deductions and depreciations and tax credits, with a California state return thrown in as well.
Importing data
Both programs have an easy drag-and-drop installation. When you launch the applications, they will ask if you want to download an update. You'll want this large download, as it contains the many changes in the tax code due to the federal stimulus package and other adjustments. You can also download the state return from within TaxCut and TurboTax.
Both programs can also import current data from Quicken and from .txf files. They can import data from the previous year file, a feature that saves a lot of work and ensures accuracy by automatically entering names, addresses, employers, and various ID numbers. This also shows you what deductions, depreciations, and sources of income you had the previous year, which clues you into what you might have this year. TaxCut asks you if you want to import last year's data, while TurboTax requires you to choose Transfer from the File menu. TaxCut can also import data from TurboTax as well as previous year's TaxCut. TurboTax for Mac can only import Intuit's TurboTax file, and not TaxCut.
But TurboTax did a more complete job of importing data from the previous year. TaxCut did not import sources of 1099-MISC income, common for the self-employed.
TurboTax also goes the extra mile by letting you import current data from institutions over the Internet. For instance, in the personal income section of the interview, TurboTax asks if you want it to download and enter your W-2 information. You enter your Employer ID; if your employer is using a payroll provider that Intuit is partnering with, TurboTax will ask verification questions and download and automatically import the W-2 information. TurboTax can also download and import information on mortgage interest, tuition payments, and student loan interest.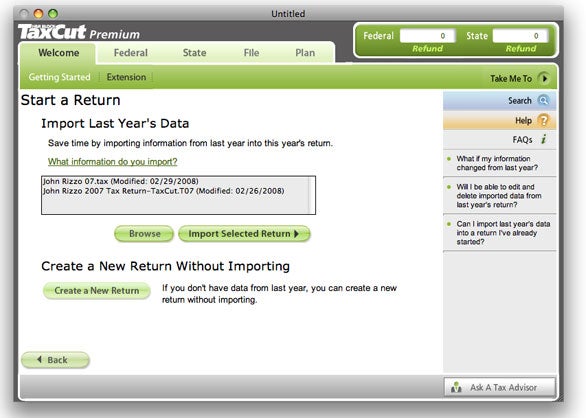 There's another handy Internet link near the beginning of the interview, when TurboTax asks if you received an economic stimulus check last year. If you didn't, you could be eligible this year. If you don't remember, click a link and TurboTax takes you to the IRS web page where you can find out if you received a check, and how much it was for.
The stimulus is just one of the very topical issues that TurboTax brings up. At the beginning of the interview, TurboTax and TaxCut both ask you about high-level issues, such marital status, or whether you bought a house. TurboTax asks if you've lost a job or had a home foreclosure. If you check this latter item, a help link tells you about the Home Mortgage Debt Forgiveness Relief Act. Under marital status, there are two new choices, Domestic Partnerships and Same Sex Marriage, which have different and unique IRS and state filing requirements. Choose one, and TurboTax recognizes what the status is in your state, and tells you the specifics of filing. TurboTax and TaxCut both ask you about natural disasters in states that the feds worthy of tax relief.
Navigating the maze of Taxland
Few users will go through the interview of either program from start to finish. You'll need to jump around to different places to add areas you missed or check on other items.
TurboTax excels in giving you tools to navigate through the interview. You'll spend less time getting to exactly where you want to be, and will find yourself spending less time using the search function.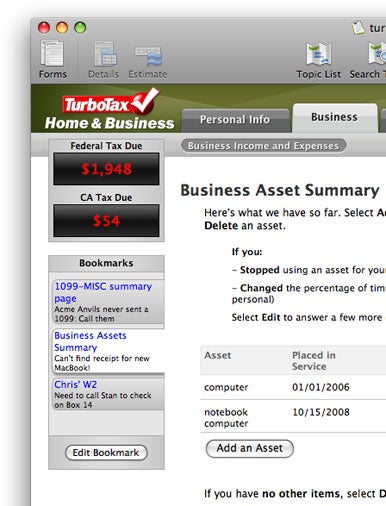 My favorite new TurboTax feature is Bookmarks. Clicking the Add Bookmark button creates a tab on the left side of the page that will get you back the exact interview page that you're on. In addition to giving a bookmark a title, you write notes or to-dos that tell you why you need to get back to the page. For instance, on a bookmark for a business assets page, you might write "Need to find the receipt for my new MacBook Pro" or make a note to call someone for information you need. If a note in the bookmark isn't enough, you can check a box to create a reminder in your iCal calendar.
TaxCut has no equivalent to this feature: You have to click a tab and click through screens to get somewhere. But even without Bookmarks, it's easier to find your way around in TurboTax than it is TaxCut. For instance, in TurboTax, the Back button works like it does in a Web browser, taking you back to the last page you were looking at. Not so on in TaxCut. Say you're on the W-2 page and decide to search for "health" in Help; TaxCut takes you to the interview page about health costs deductions. Good enough, but the Back button doesn't take you back to W-2: it takes you the previous screen in the deductions interview.
TaxCut's search feature just isn't as comprehensive as what TurboTax offers. Searching for "stimulus" in TaxCut didn't return any results. A movie called Tax Law Changes mentioned it, but didn't indicate where the item was located in the software. I found it later in the Tax Credits section.
Social networking for better tax returns
Help is one of the main reasons to use a tax program, and both programs provide plenty of it. The interviews themselves provide help and advice. There are also help systems, official IRS documentation, and embedded videos, well as FAQs in the margins that are specific to the page you're on. These are all helpful and equivalent in both programs.
This year, TurboTax added a Web 2.0 feature to called Live Community that adds a whole new dimension to getting tax help, and which will give you answers much faster. A click on the Live Community icon makes a drawer appear with five questions relevant to the page you're on. But these aren't questions that Intuit thinks you might want to know—they're the most popular questions that other TurboTax Live Community users are asking. Click one, and you get answers that users have given.
Even better, you can enter your own question and searches to see if other users have asked it. (Intuit claims 18 million customers, so it's a potentially large social network). Live Community returns dozens of answers from different users. I searched for "Obama" and got user questions and answers about homebuyers credit and other stimulus topics. If you don't see an answer, you can submit a live question that people can reply to. In addition to other users, Intuit says that TurboTax also has its people on Live Community looking for unanswered questions. If you want to share your expertise, you can also answer other people's questions in a short, twitter-like manner.
Like other social networks, the TurboTax Live Community rewards active users. Click the Leaderboard link, and you get a list of the top 10 contributors, who earn points based on how other users rate their answers.
For its part, H&R Block offers one free session with a tax advisor, either via e-mail or by phone. You submit a question through the software, and the H&R Block tax pro will contact you.
Macworld's buying advice
TaxCut and TurboTax give professional-level results that will be as accurate as the information you provide. But you'll spend less time preparing your tax return with TurboTax than with TaxCut. If you dislike tax preparation as much as most people do, that alone is worth the extra money. The bookmarking feature by itself may be worth the cost. But if you have a complex tax return, TurboTax is also more likely to lead you to money-saving methods that you might not come up with in TaxCut.
[John Rizzo is the publisher of MacWindows.com and author of several books about Macs and PCs.]