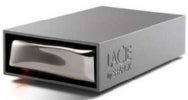 A hard disk drive (or HDD, commonly called a hard drive) contains spinning platters with magnetic surfaces, and mechanical arms with heads that read and write data on those platters. The hard drive in your Mac is often referred to as an internal hard drive. An external hard drive is a hard drive, packaged in a case, that connects to your Mac via USB 2.0, FireWire 400, FireWire 800, or eSATA.
External desktop hard drives are great because they offer the best combination of features. They're relatively affordable, and prices drop regularly; you can buy 1TB USB-only external hard drives for under $200. They have faster data-transfer speeds than DVDs or CDs. They're easy to use: with most external hard drives, all you have to do is plug the device into the proper port. They can be disconnected from one computer and attached to another. And they come in a variety of sizes and forms.
However, there's always the possibility (albeit small) that the read-write head will come into contact with a platter, causing a failure. And hard drives have varying life spans; some last a few months, while others can last longer than a decade. But most drives come with limited warranties that last between one and five years. (There's a good chance that by the time the warranty expires, you'll be ready to upgrade.)
Overall, if you're looking for a quick and painless way to add massive amounts of storage for your music, photos, videos, or system backups, an external hard drive is hard to beat.
External hard drives buying advice
Capacity Capacities range from 320GB to 2TB. If you have lots of media or graphics files, more is better. Although more capacity usually means a bigger bite out of your wallet, many 1TB external hard drives cost less than $200.
Connectivity You'll use USB 2.0, FireWire 400, or FireWire 800 to connect to you Mac. Many drives feature multiple ports, but some offer only one (usually USB or FireWire 400).
While USB 2.0 has a faster transfer speed than FireWire 400, hard drives rely on sustained throughput, and in this respect, FireWire comes out faster, especially with larger files. With FireWire, you can boot up your FireWire-equipped Mac from the drive, as well as daisy-chain the drive to other FireWire devices. FireWire 800 is faster than USB 2.0 and FireWire 400, but it may not be available on some older Macs. On newer Macs, FIreWire 800 is your only choice, and if you have a hard drive with FireWire 400 but not 800, you can use a FireWire 400-to-FireWire 800 cable.
USB is a must if you're sharing the drive between Macs and PCs, and it's your only option if your Mac doesn't have FireWire.
Many high-capacity drives offer eSATA (external Serial ATA), which, at 1.5 or 3 gigabits per second (Gbps)—depending on which version of Serial ATA is implemented—is faster than FireWire 800. MacBook Pro users can add eSATA by using an ExpressCard/34 card; these cards range in price from $19 for OWC's ExpressCard/34 eSATA SATA I/II ExpressCard/34 Adapter, to as much as $200 for Sonnet's Tempo SATA Pro ExpressCard/34. Mac Pro users can add eSATA with an eSATA PCI, PCIe, or PCI-X expansion card; these prices range from $70 for CalDigit's FASTA-2e 2 port PCI-e SATA 3G Host Adapter, to $176 for cards like Addonics' 4 Port eSATA PCI-E 8x Controller. Mac Pro users can alternatively tap into the two unused SATA ports on the motherboard, using Newer Technology's $25 eSATA Extender Cable ( ).
Speed The faster the platters in a hard drive spin, the better the performance is. 7200 rpm (rotations per minute) is standard for desktop computers and plenty fast for most users. Most Mac notebooks feature 5400-rpm drives. If your tasks include recording audio, working with video, or gaming (tasks that require constant drive access) and you currently have a slower drive, a 7200-rpm external drive will provide better performance.
Mac Pro users who do professional-level audio or video production might consider a 10,000- to 15,000-rpm drive, for optimal performance. These high-performance drives usually offer less storage capacity and require a SCSI connection, so you'll need to either install a SCSI card like Atto's $295 ExpressPCI UL4S to support the connection, or consider a RAID instead.
Added Features Almost all USB or FireWire external hard drives are compatible with Time Machine, as long as the drive is HFS+ formatted (and, of course, you must be running OS X 10.5 or 10.6, both of which include Time Machine). Some drives include extras such as bundled software, one-touch backups, and software encryption. And keep in mind that external hard drives are common targets of theft: if your drive is publicly exposed (say, at work) find a drive with an antitheft port that you can use to tether the drive to your desk, and consider using encryption.
Our favorite external hard drives
The LaCie Starck Desktop Hard Drive ( ) is a creatively designed USB drive that features an unconventional aluminum case design and some equally distinct features. You can customize the touch-sensitive front panel to open an application of your choosing. Read our full review. [$130 (Get best current price); LaCie]
While other drives seem more fashionable, the Rocstor Rocpro 850 ( ) has speed on its side. It also offers versatile connection options (two FireWire 800 ports, an eSATA port, and a USB 2.0 port) and a competitive price. Read our full review. [$130 (Get best current price); Rocstor]
Audio/visual professionals will enjoy the flexibility of the EzQuest Thunder Pro A/V Quad Interface ( ). In addition to the speedy 7200 rpm Hitachi mechanism, the drive's fanless design allows the Thunder Pro to perform more quietly than other drives. Read our full review. [$279 (Get best current price); EZQuest]
[Writer, music composer, photographer, and pack rat Kris Fong has archived tens of thousands of files. Now if she could only remember what's stored where. Macworld Assistant Editor Chris Holt contributed to this guide.]
Note: When you purchase something after clicking links in our articles, we may earn a small commission. Read our affiliate link policy for more details.