AVerMedia on Monday announced the launch of the AVerTVHD Volar Max, a new USB 2.0-based TV tuner that's PC and Mac compatible. It costs $70.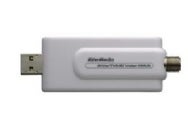 The AVerTVHD Volar Max is a TV tuner stick — a USB thumbstick that enables your Mac to receive HD digital television and unencrypted digital cable (ClearQAM) signals, at up to 1080i resolution.
The device includes AVerTV for Mac software to manage tuning, "timeshifting" and Personal Video Recording (PVR) features. It supports closed captions and digital surround sound.