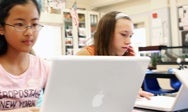 When my high-school teacher told us to "get out our notebooks", I pulled out a college-ruled spiral-bound Mead—just like everybody else in the Dark Ages. These days, though, kids are just as likely to pull out a MacBook, especially if they live in Maine.
The state has long struck deals with Apple to provide laptops for many of its students, and according to a report by the Associated Press, it's in negotiations with Apple to expand the deal this year, putting a MacBook on the desk of every public school student from grades 7 to 12. The 100,000 laptops would run to a cost of roughly $242 per computer per year, or an annual total of close to $25 million.
Currently, the program covers around 37,000 middle-school students, as well as an additional 10,000 teachers at the middle- and high-school level. Maine Governor John Baldacci said the program is being paid for with existing resources at no extra cost to the taxpayer, which is good news in the current economic climate.
Of course, it's good news for Apple too—not just for the money the deal itself will bring in, but for the fact that an entire generation of Maine kids will grow up familiar with the Mac. My cousin's daughters grew up in a New York State school district which also had a deal with Apple, and I think it greatly encouraged their comfort with technology from an early age.