That an app such as Neoos' Sticky News should exist at all is a true testament to the power and diversity of human imagination. Never in my wildest dreams would I have conceived an RSS application for the iPhone and iPod touch that requires the device to be plugged into a computer, always on, and that uses the sticky note as a graphic motif.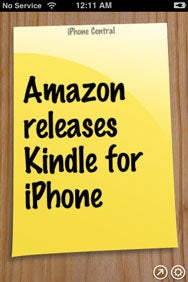 It sort of works in theory… I guess. In practice, Sticky News leaves a bit to be desired.
Now, if you happen to be of the opinion that an RSS news feed shouldn't be "high concept," then Sticky News definitely isn't for you. First, Sticky News isn't a traditional RSS reader. It's more like a news ticker, without the ticking. The developer intended the app to run whenever your iPhone or iPod Touch is sitting around connected to a power source, always on and always active.
Read more…
You can read the stories on your iPhone by tapping a button at the bottom of the note. Sticky Notes will launch the story in Safari. But to take full advantage of the app, the developers expect you to add a special "Sticky News Link" to your laptop or desktop's Web browser. When an interesting headline "note" appears on your handheld, click on the news link bookmark on your computer. You will be automatically redirected to the full news article or blog post, which is a nifty trick and one of the app's more appealing features.
Every time a new headline appears in one of your feeds, a new note pops up. The black and yellow color scheme sets off the headlines without being too distracting. You can set the app to cycle in a new headline as often as every five minutes, or as little as every five hours. If you like your headlines to cycle quickly, however, you quickly discover that five minutes is more of a suggestion than an order.
That's because the app works best with lots and lots of feeds. I made the mistake initially of entering a handful of RSS feeds. Then I waited. And waited. I soon discovered that Sticky Notes is all about the now. Unlike other RSS readers, the app will only load the very latest headlines from your feeds—again, it's a news ticker, not really a feed reader. So the more RSS feeds you have, the more news you can expect to see.
There should be some way to skip dull or uninteresting headlines. Just because you subscribe to a certain feed, that doesn't mean you have to embrace 100 percent of the content. I kept tapping the sticky note in the vain expectation that it might peel away and reveal a new one. No such luck. Perhaps the developers might consider such a feature in a future update.
Unlike other RSS readers, Sticky News doesn't make importing your feeds especially easy. The app is fickle about accepting your feeds. Yes, you can import Outline Processor Markup Language (OPML) files. But I received an error when I tried. I also received several errors when I tried to add RSS feed URLs. The import instructions aren't very clear. Eventually, I got it to work, but I had to make certain to enter the feed's complete address, with the "http://" or "rss://" prefix. It would be easier if Sticky News simply let you manage your headlines with Google Feeds, much like Newsstand ( ) and Byline ( ) do.
Neoos also offers a free version of Sticky News that's essentially a way to give the app a try. Sticky News Free comes with two preconfigured feeds; you don't have the ability to add, edit, or import feeds.
Bottom line: Sticky News is an unconventional news ticker app. Perhaps a bit too unconventional.
Sticky News is compatible with any iPhone or iPod touch running the iPhone 2.x software update.
[Ben Boychuk likes his news like his whiskey: Neat. He is a freelance writer and columnist in Rialto, Calif. Feel free to e-mail him.]